Mexican architecture firm, Aidia Studio, has been commissioned to design a complex of 25 luxury hotel pods with collapsible shells, located in the Rub' al Khali Desert, also knows as the Empty Quarter in Abu Dhabi.
The pods called the Oculus features a double-glazed dome housing luxury hotel rooms, which are covered by a collapsible shell for shading, temperature control, camouflage, and privacy.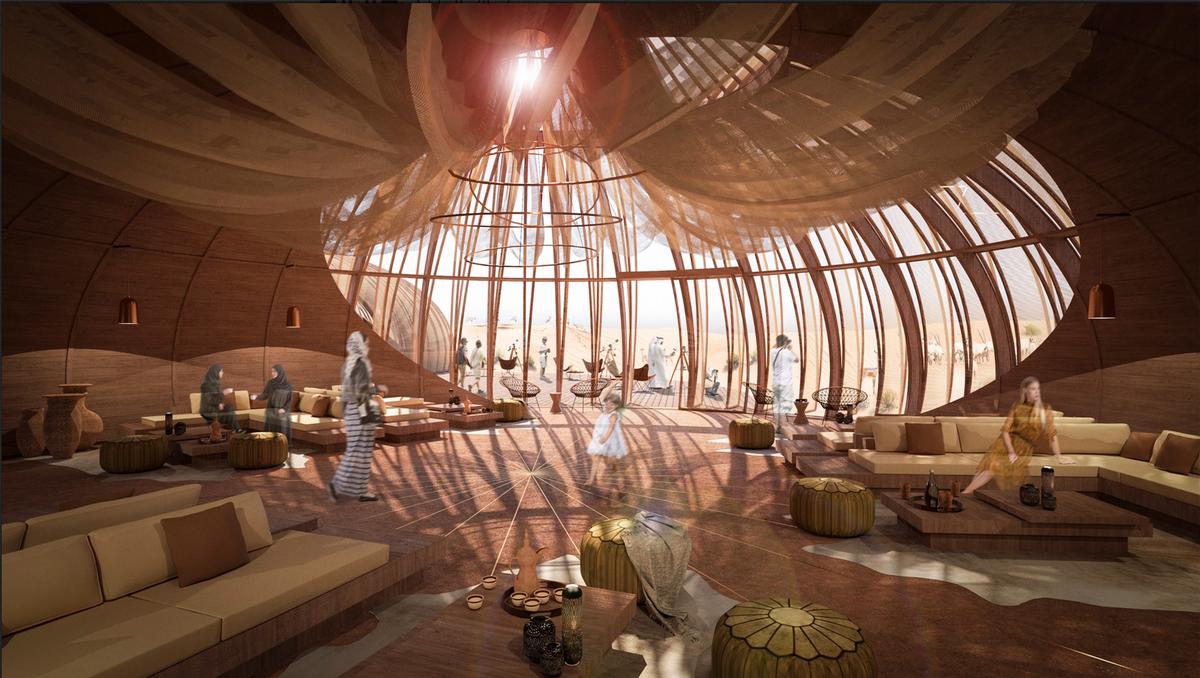 The outer shell is made up of 60 shading panels which create a dense lattice to shelter the cabin – a form inspired by desert cacti species that feature thick outer skins, foldings and fins to modulate heat and solar radiation.
The panels densify towards the crown so as to adapt to the curvature of the pod, and in doing so augment their reflective capability from the harsh vertical sun radiation.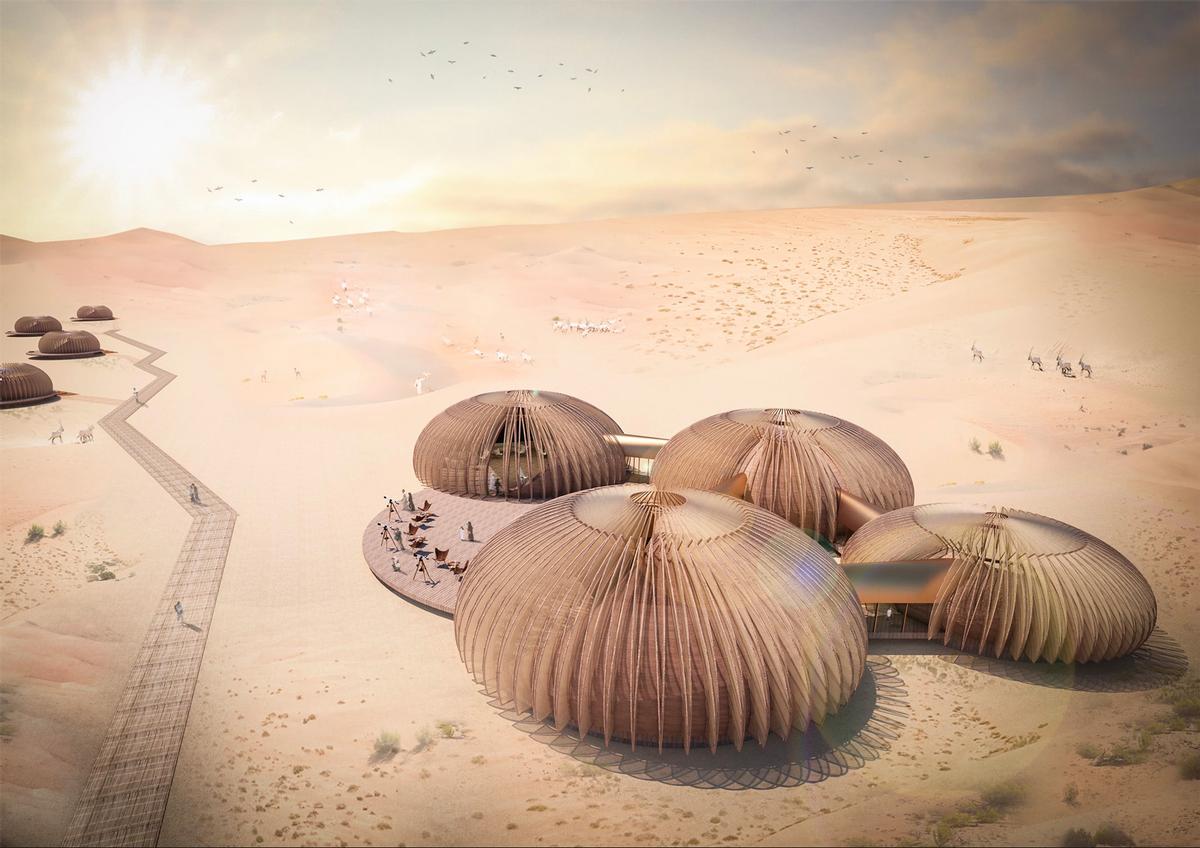 This outer layer can morph into different configurations depending on the time of the day, climate and needs of users, and also folds downwards to reveal a frameless acrylic dome for stargazing in the expansive desert setting.
During daytime, the skin retracts sideways opening the front of the pod and unveiling the doors to the front deck. When the shell is fully deployed, it camouflages the pod with the desert landscape to allow guests to go wildlife spotting from the comfort of their own cabin.
Aidia architects Rolando Rodriguez Leal and Natalia Wrzask are the lead architects for the project which is currently under concept design stages. The complex is planned to include both the standard 50m² and VIP 80m² size pods.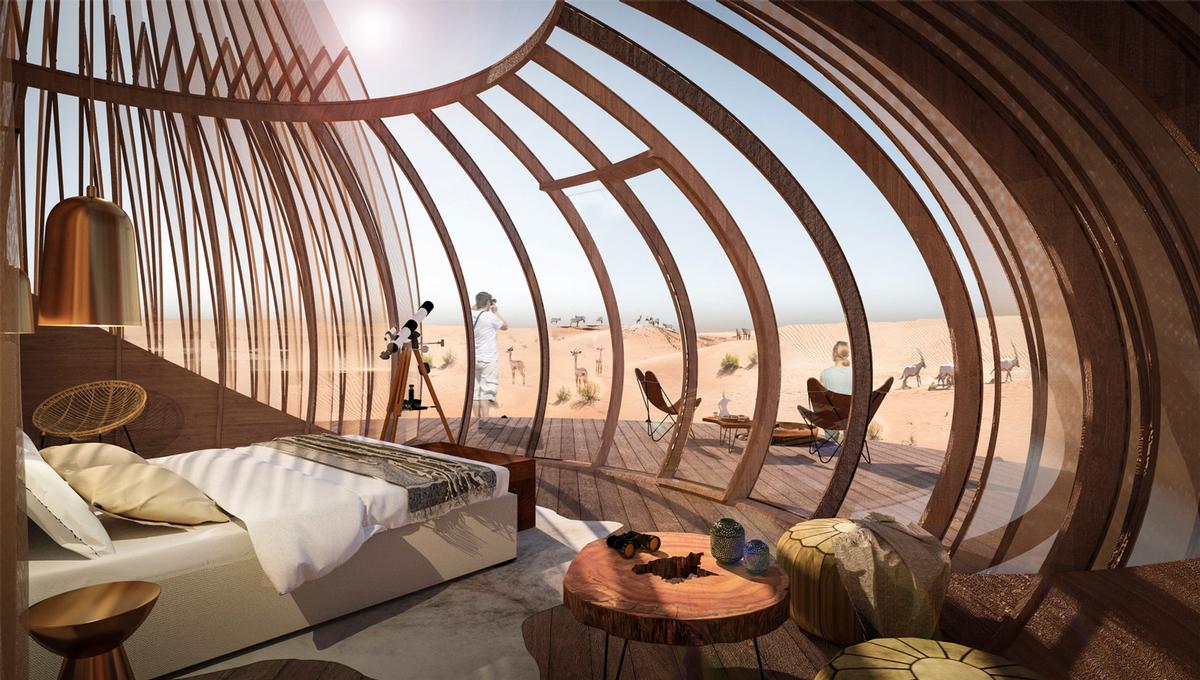 According to Aidia Studio, the main goal behind Oculus' design is to improve the environmental performance of the building through self-shading.
The design concept also includes environmentally-friendly features, such as the incorporation of highly flexible dye-sensitised solar cells sewn into the shading fabric as textile electrodes to power the pod, as well as water tanks to filter and recycle used water.
The Oculus complex is envisioned to be built in the middle of a gravel plane backed by a tall sand dune, with the 25 cabins placed around the site to mimic the shape of a constellation.
The concept also includes the creation of a central hub of four pods with the same design as the cabins but on a larger scale. The buildings will house a reception and guest toilets, reception lounge, restaurant and kitchen and staff functions, and will all be interconnected via transition sleeves that will be held together by an elevated outdoor deck.
You might also like:
Dubai's X-Architects wins competition to design luxury desert resort in Saudi Arabia's Empty Quarter
Al-Ula Desert visitor centre by KWY Studio ushers new tourism era in Saudi Arabia
Foster + Partners bags airport design commission for yet another luxury tourism project in Saudi Arabia