Founded in 1936, the Tel Aviv Port originally opened on in 1938 and ceased its status as an active port in 1965. In 2009, the port was re-opened after undergoing a complete restoration and transformation project. The port now provides a hub of entertainment and culture while retaining its seafront charm and authenticity, with a boardwalk-style promenade and curving structures.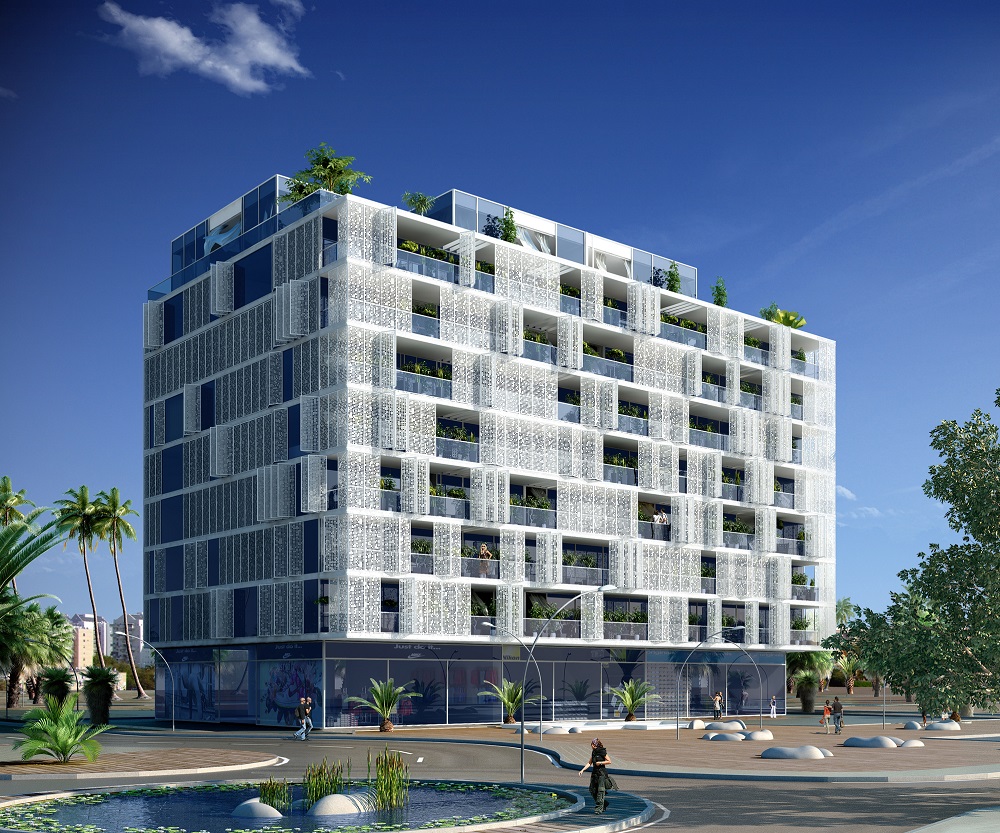 Hagag Group, Israel's well-known residential developer, has engaged Ilan Pivko Architects for its latest project called Port Tel Aviv. Located 50 meters from the Mediterranean seafront, the project features 40 exclusive luxury apartments along with a five-star hotel. It is housed within a new architectural icon inspired by the Cubist art of Pablo Picasso and Georges Braque. The 10-storey property is situated in the heart of the Namal Tel Aviv Port, in the city's highly coveted Old North neighbourhood. Port Tel Aviv aims to redefine Israel's luxury living standards, and is expected to be delivered in the fourth quarter of 2022.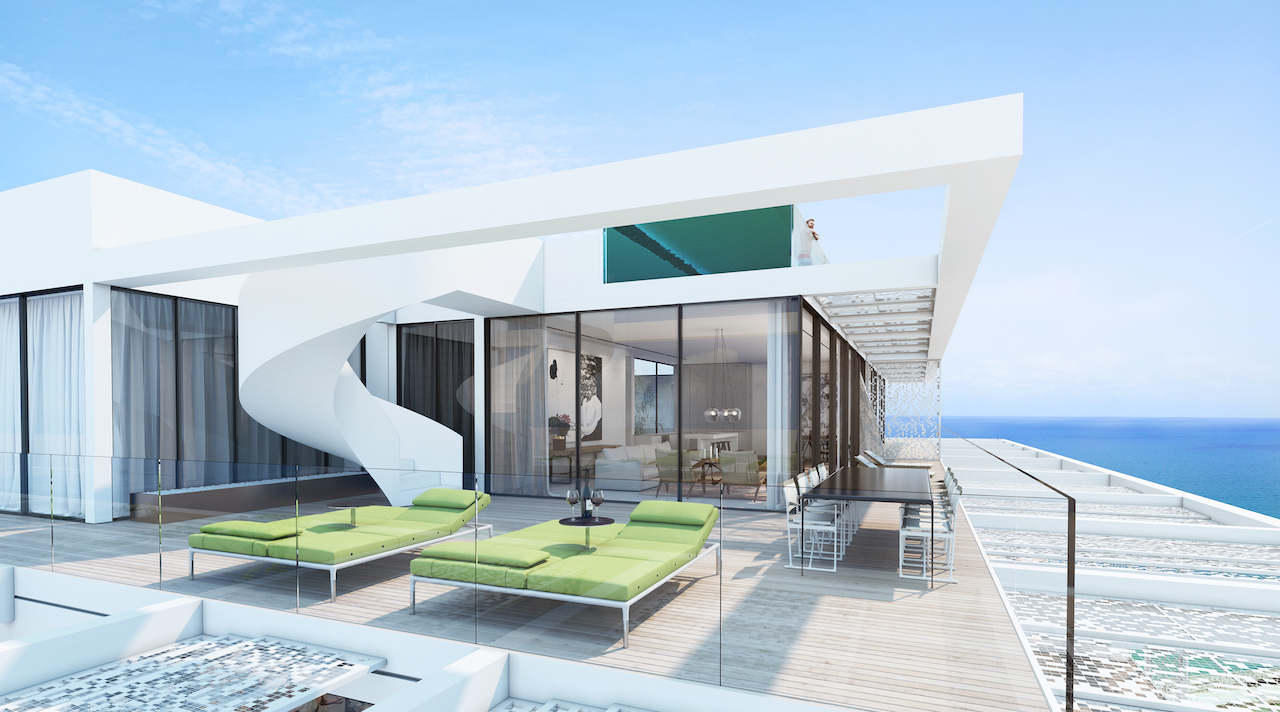 The project's five-star boutique hotel will occupy the first two floors of the development, and will offer 44 rooms and suite accommodations. The top seven floors feature 40 luxurious apartments with one to four-bedroom layouts, two mini-penthouses with private pools, and two exclusive five-bedroom penthouses with private rooftop decks and swimming pools. The development is modernist-inspired, which perfectly fuses art and architecture.
Each floor of Port Tel Aviv features wrap-around recessed private terraces – reminiscent of Tel Aviv's iconic Bauhaus legacy – with mosaic-like façades that offer both "brise soleil" protection, which reduces heat gain within the building by deflecting sunlight. Living spaces are designed to maximise the Mediterranean light with bright open interiors, luxurious floors, and high ceilings that facilitate unobstructed views.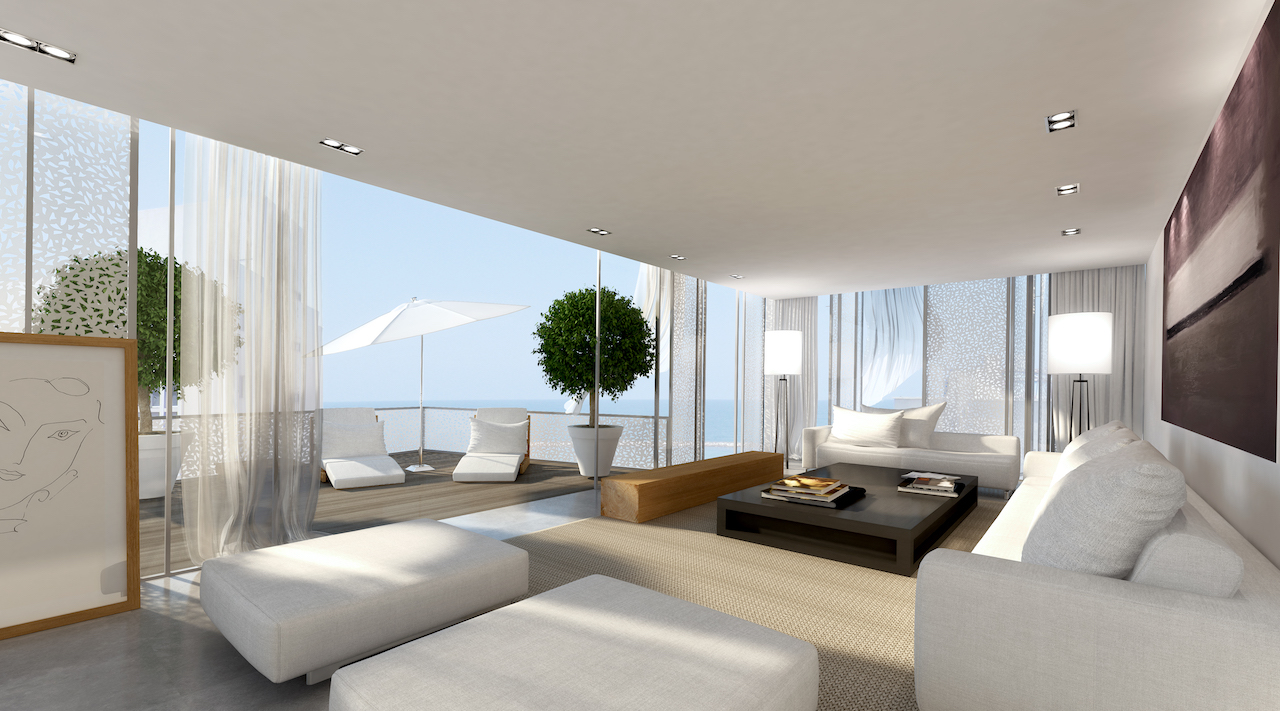 Port Tel Aviv's location places residents in the centre of the Namal Port district in the desirable Old North neighborhood. As one of Tel Aviv's most dynamic areas, the neighbourhood fuses leisure and convenience with access to the city's beaches, recreation areas, parks, renowned restaurants, farmers markets, fashion boutiques and Tel Aviv's unparalleled nightlife scene.
Home to the world-renowned Bauhaus architecture of the White City of the 1930s, Tel Aviv has had a proud reputation for delivering architecturally beautiful and important contemporary buildings. Port Tel Aviv will build on this architectural pedigree with the development set to become a landmark for Israeli architecture, bringing Cubist design to the Tel Aviv coastline.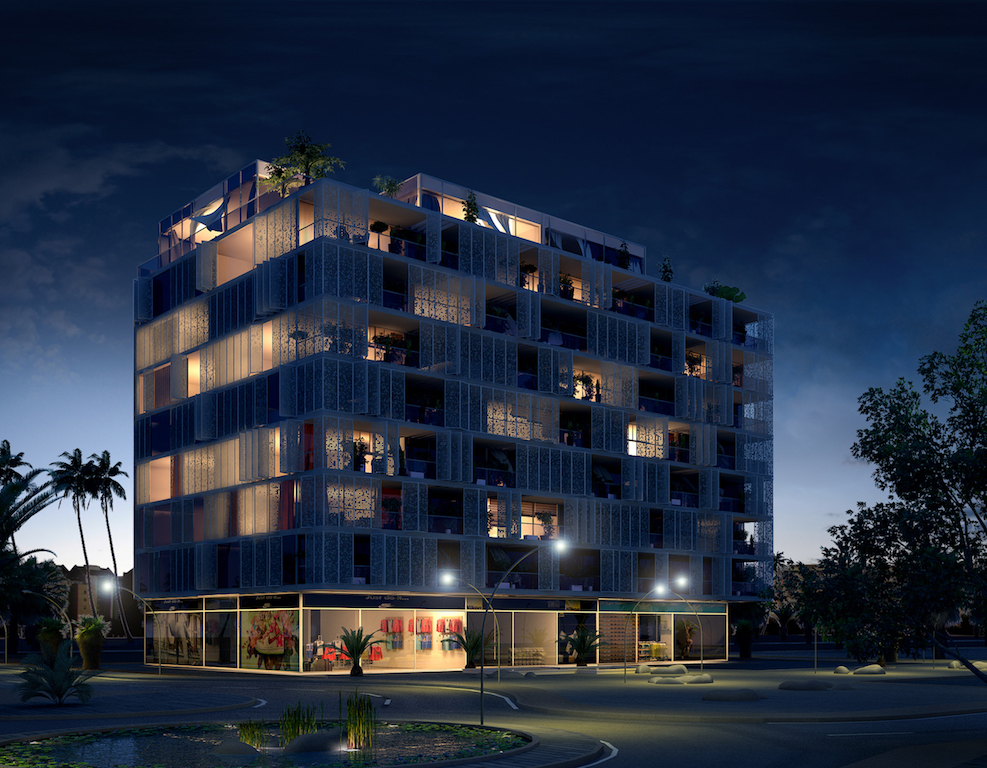 In-keeping to the artistic Cubist façade of the building, the double-height ground floor lobby at Port Tel Aviv will provide an ever-changing collection of artworks and exclusive pieces by contemporary Israeli artists. The ground floor of the building will also feature a dedicated concierge team and private lift access for residents who will also enjoy access to luxurious hotel amenities on the lobby level and the first two floors.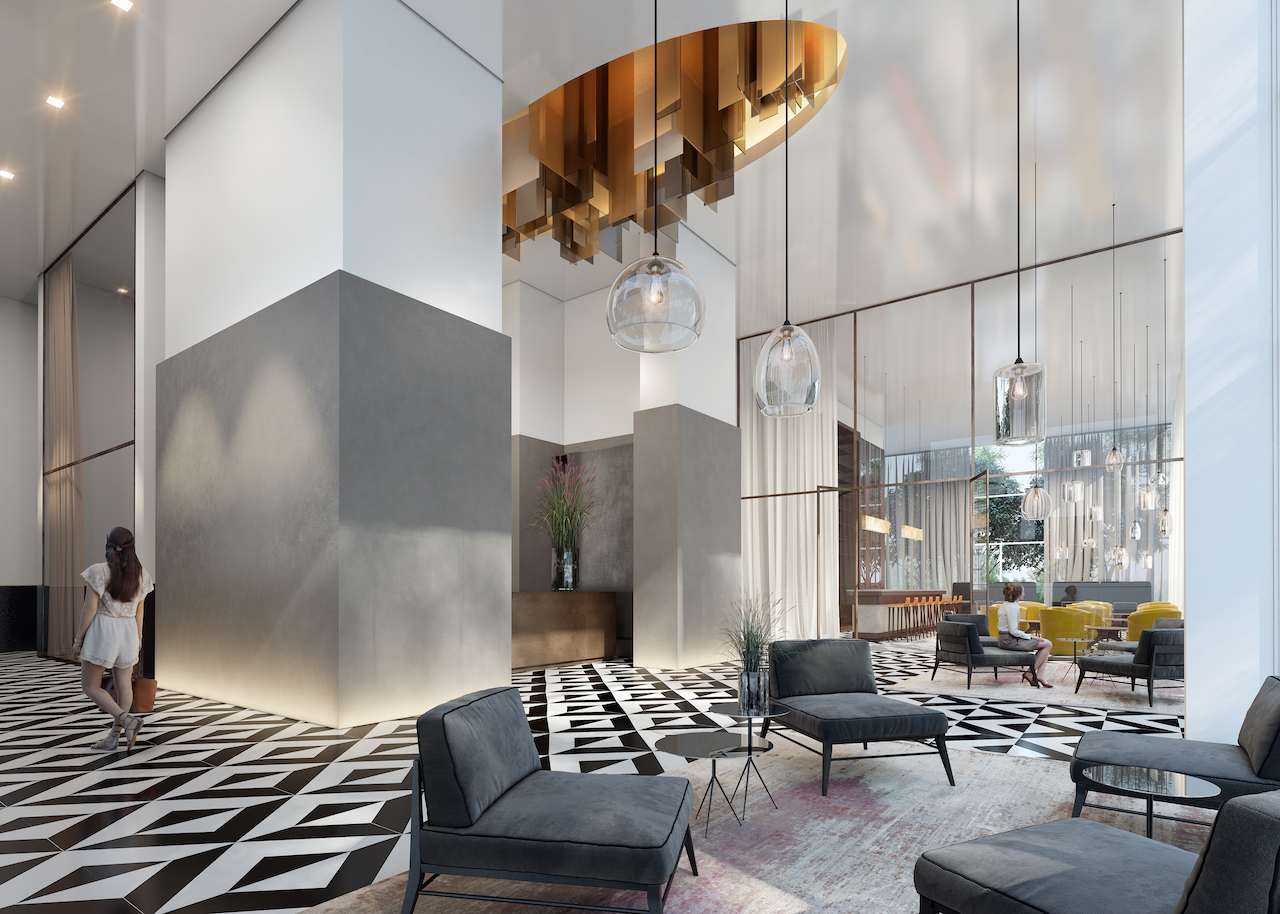 On the ground floor, the boutique hotel is planned to include spacious lounge areas, a spectacular restaurant and cocktail bar spanning the entire depth of the building, and a second lounge/cocktail bar and cinema/conference centre, complete with business meeting rooms and VIP private dining rooms.
Floor-to-ceiling windows and full-height glazed doors on the ground level open onto spacious outside timbre leisure decks. On the first floor, there is a gymnasium with a separate exercise studio and a second-floor business centre with lounge areas.
All the one-to-four bedroom apartments have a spacious reception room with an open-plan designer kitchen, opening onto a private timbered leisure deck. The larger apartments also have double reception rooms and luxurious master bedroom suites with ensuite bathrooms and some with walk-in dressing rooms. Two of the four-bedroom apartments on the eighth floor feature their own private swimming pools, along with spacious private leisure decks that wrap around the entire living space of these luxurious residences.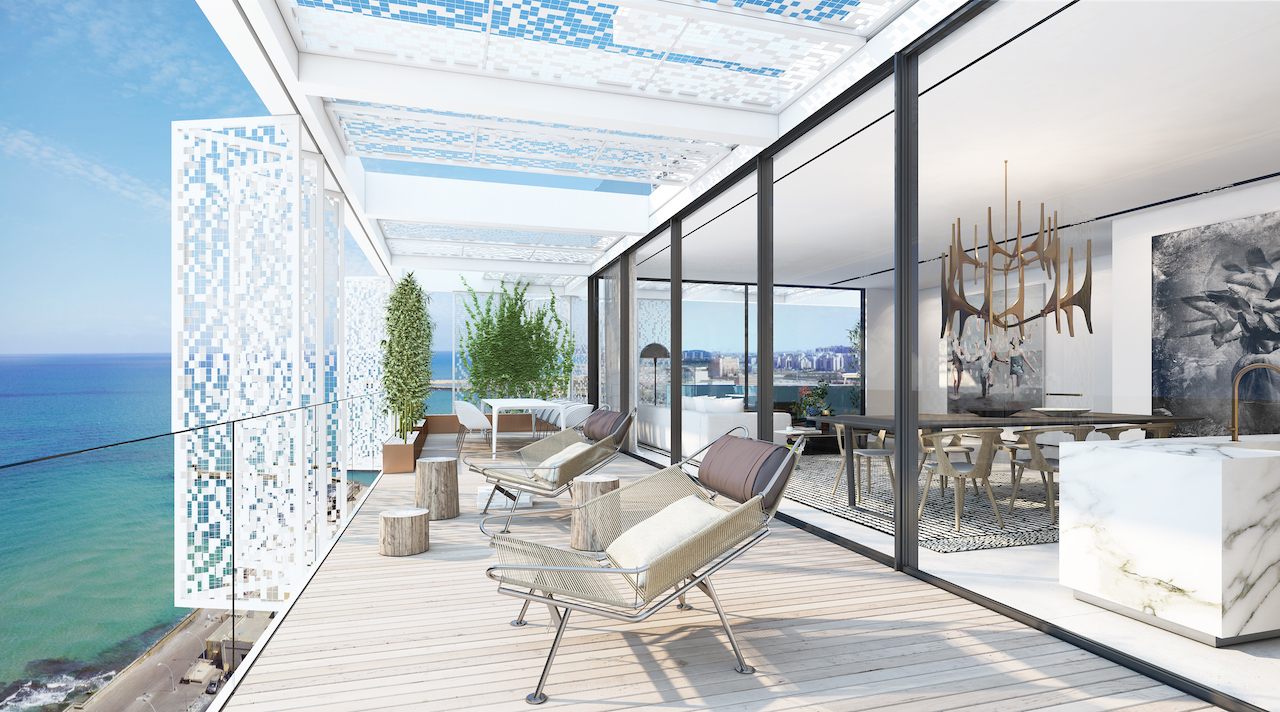 On the ninth and 10th (top floor) level of the building are a pair of five-bedroom penthouses. Both penthouses have a spectacular triple reception room providing living areas, family kitchen/breakfast room and a dining area for eight-to-ten people.
The master bedroom suites include luxurious master bathrooms and a series of VIP bedrooms and guest suites. The penthouse living areas open onto private leisure decks on the ninth floor, with an outside spiral staircase leading up to the top tenth level that has a large rooftop leisure deck and private swimming pool.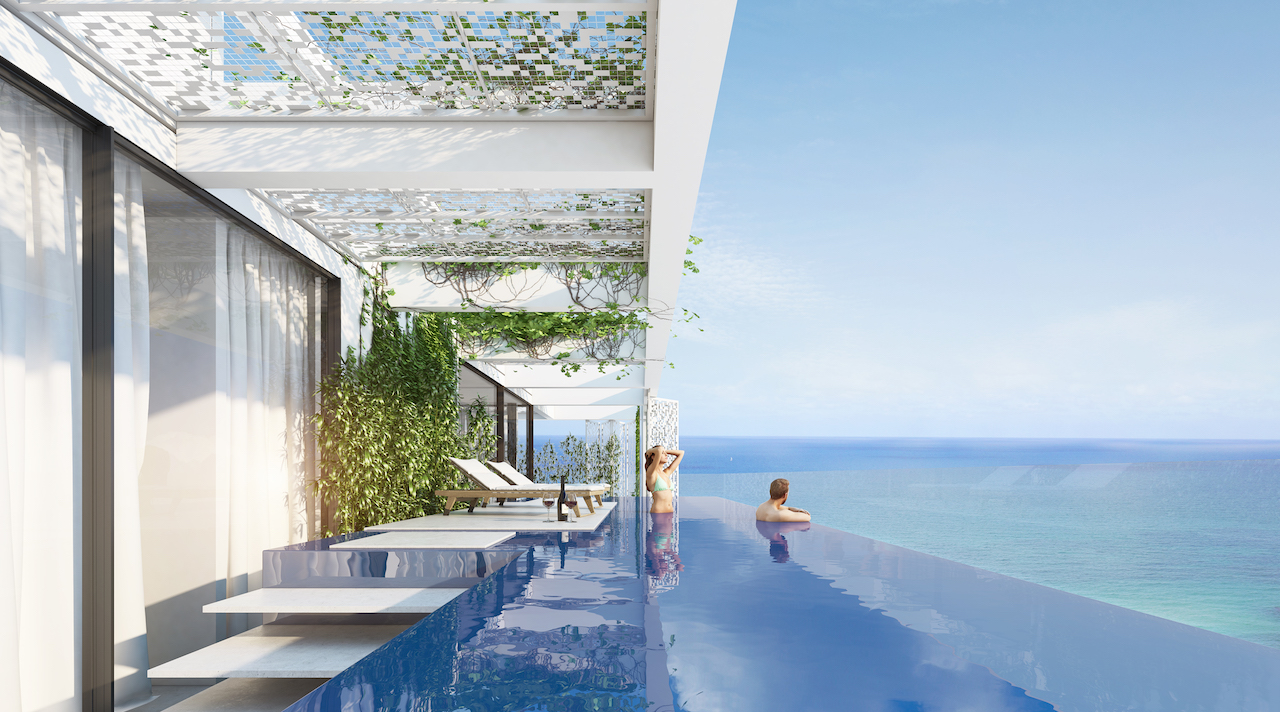 All the apartments face the sea and benefit from bright, open interiors, high ceilings and floor-to-ceiling glazing on all levels. The outside terraces have been adroitly designed with innovative movable brise soleil, which can either protect residents from the sun, or be moved aside to allow sunlight to cascade onto the terraces and into the bright and airy living spaces. Incorporating the surrounding landscape and seafront into the apartments' design, each home will be spectacularly finished and dressed in the finest materials such as glass, steel, marble and oak. Paying homage to Israel's status as a thriving city for tech companies and startups, all apartments will also be fitted with state-of-the-art technology.
You might also like:
Studio Lotus designs luxury hotel interiors in Indian Himalayas using traditional materials and references
Israel house designed by Pitsou Kedem Architects features wooden louvres that protect against harsh sun
A.Lerman Architects designs boxy cultural museum nestled within exclusive Tel Aviv neighbourhood