Danish architecture practices 3XN/GXN and SLA have completed Klimatorium – Danmarks Internationale Klimacenter, Denmark's international climate centre located on the harbour front of the town of Lemvig on Denmark's west coast. Top photo: Thomas Molvig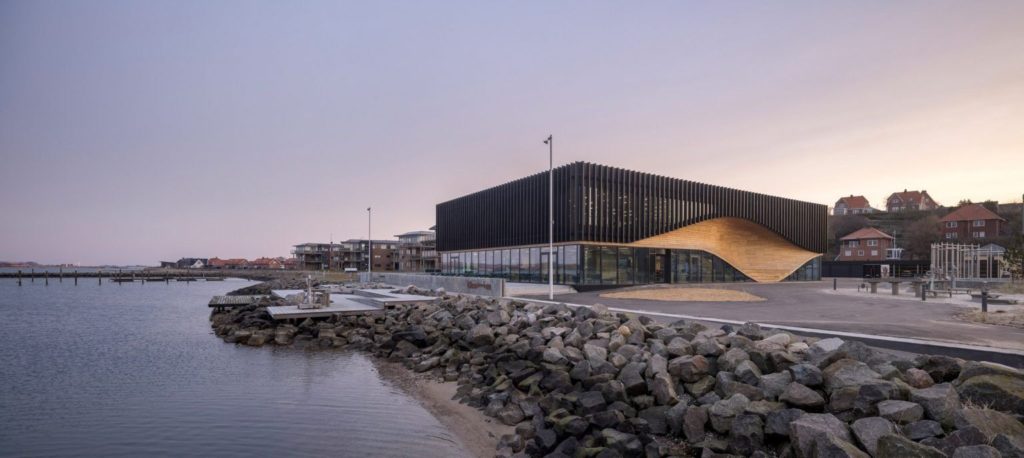 The design takes cues from its surroundings and context – a wooden wave is carved into the facade, which also serves at seating. This not only helps people physically connect with the building, but also with surrounding nature. It is a forum for knowledge, education, innovation and development projects within utility services and climate change. The new building is going to support Denmark's role as an exporter of climate solutions and help establish Lemvig and the Central Denmark Region as a center of climate change adaptation.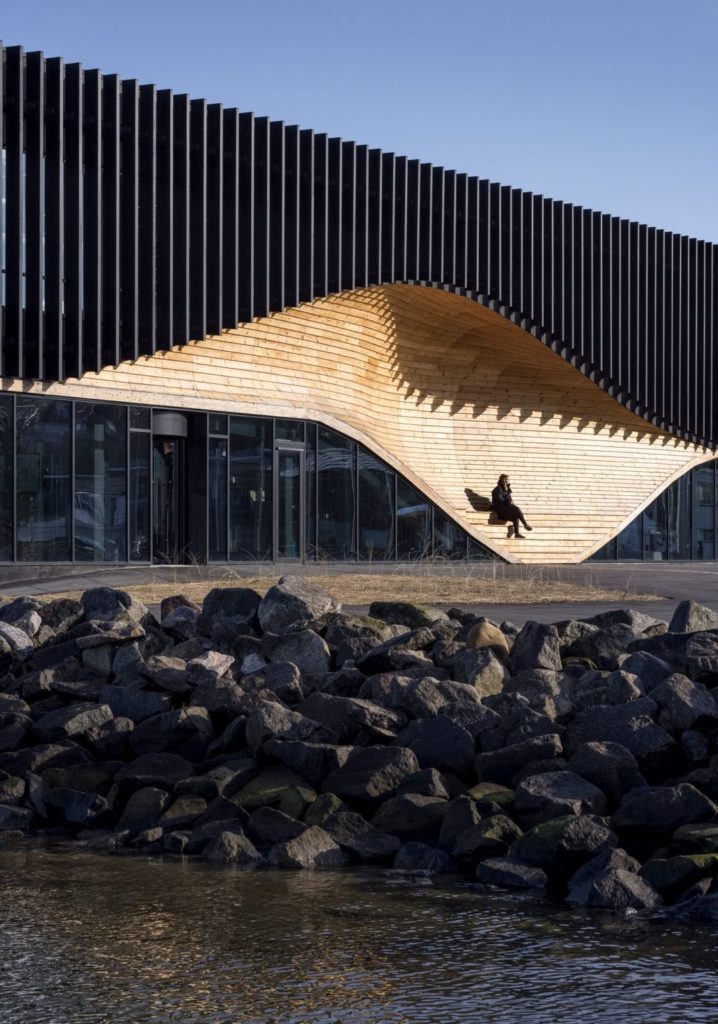 The motif draws inspiration from Lemvig's characteristic fishing boats and celebrates the area's cultural history and local building tradition. The Klimatorium, which is already an iconic structure in Lemvig, is a relatively simple two-storey structure where the open glass facade of the ground floor makes the wood-clad upper floor appear to be floating in the air. The lower floor can be used for exhibitions, conferences, concerts and events of various kinds and has the potential to become a new local meeting place.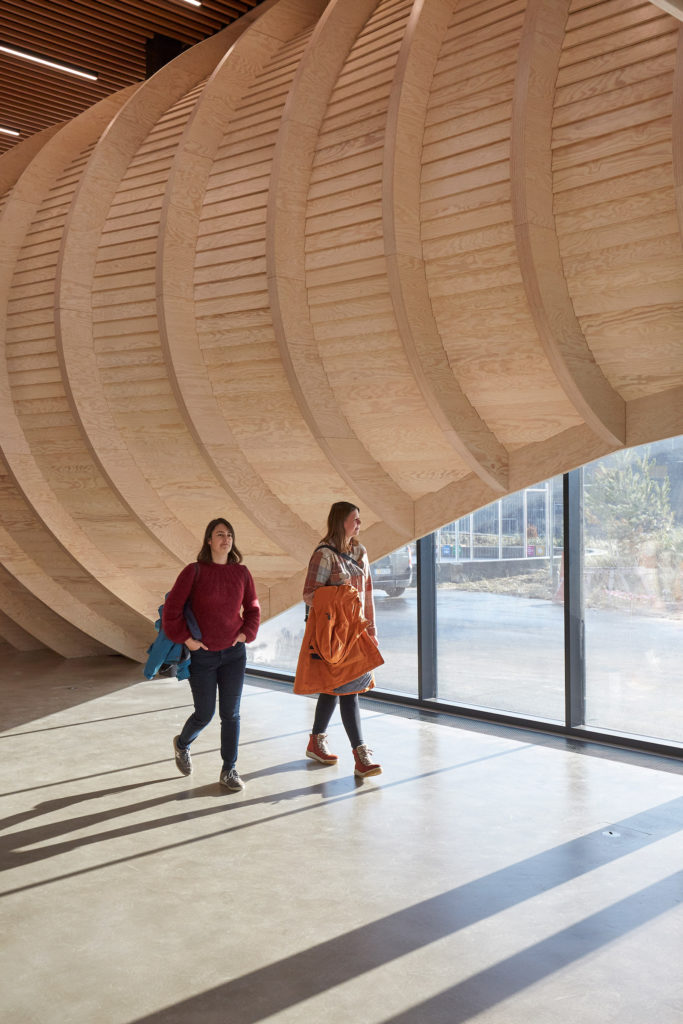 The wavy organic pocket in light wood forms a striking landmark both outside the building and seen from within. The material selection is inspired by the nearby boat halls, bringing a raw, rustic expression in wood, concrete and steel that resonates with the local environment.
The landscape is structured along meteorological isobar lines representing prevailing wind conditions in Lemvig – which sometimes lead to flooding. This motif interacts with the soft lines of the skater park and forms an intuitive route through the landscape. The climate wedge is designed to create pleasant, sheltered spaces for recreational use.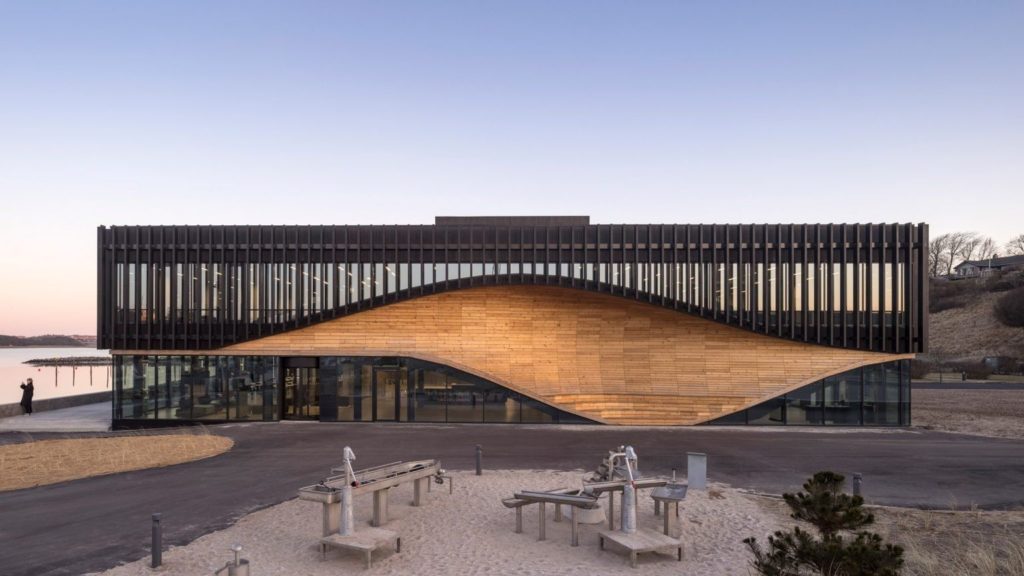 The vegetation is based exclusively on local plants that thrive in the coastal environment and require a minimum of care. The climate wedge serves as an outdoor space where the staff of Klimatorium can conduct experiments and provide the city with a new urban space for visitors to the harbour front.
Photos: Adam Mork, Henrik Vinther Krog, Thomas Molvig
You might also like:
Lausanne-based International Olympic House by 3XN Architects symbolises the values of the global sporting event
Snohetta designs monolithic visitor centre for Svalbard Global Seed Vault in remote Arctic region
Danish firm Rosan Bosch and Spanish studio IDOM are designing a first-of-its-kind 'pandemic proof' school in Peru