Street architecture specialist 100 Architects has proposed High Loop, a concept aimed at renovating Puji Road pedestrian bridge in Shanghai, the iconic bridge over the Suzhou Creek that connects the districts of Zhabei and Jing'an.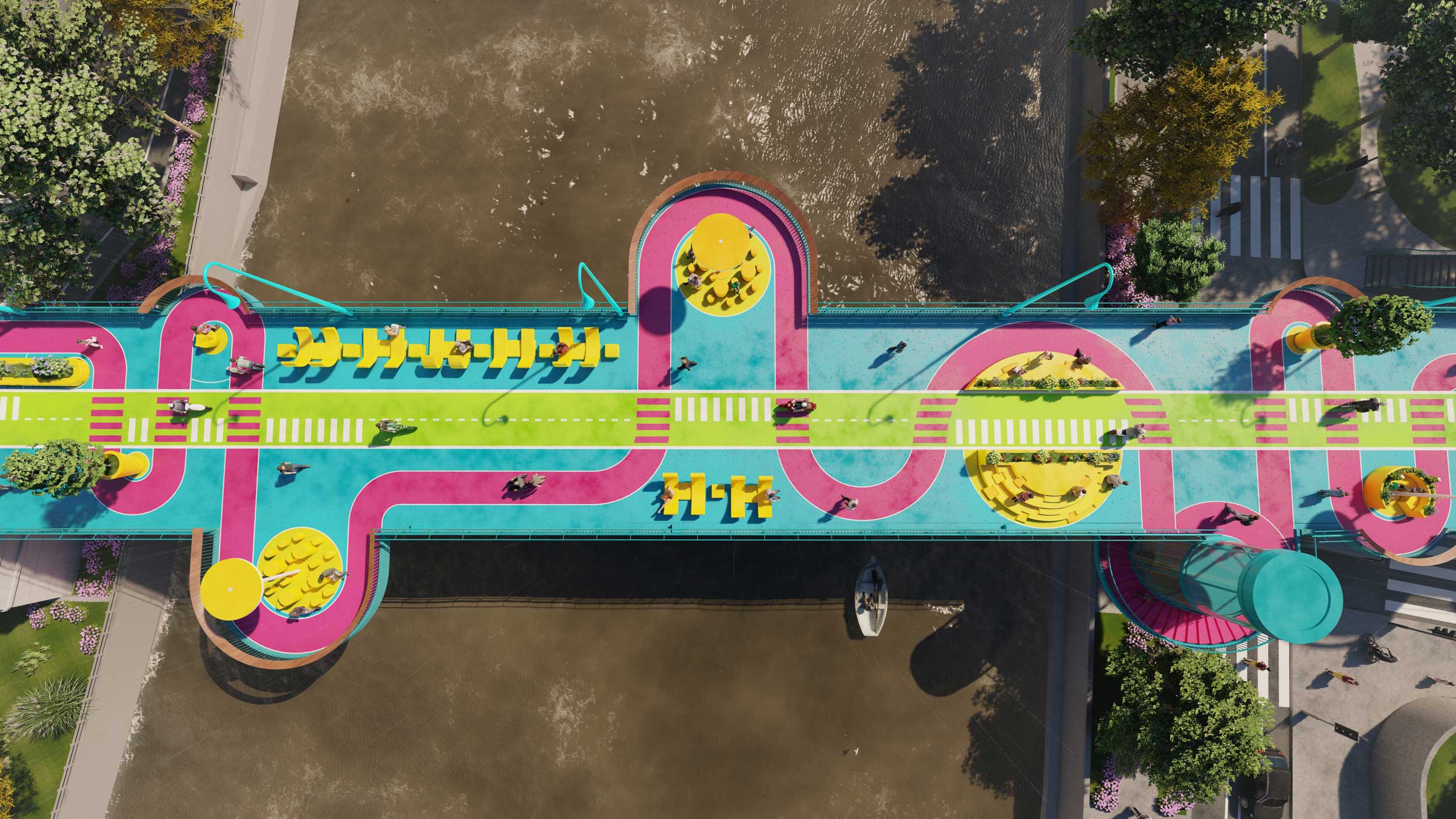 The Suzhou Creek is often called the museum of bridges because of the large number of such structures crossing over the creek. This pedestrian bridge was first built over the Suzhou Creek in 1997. During the 2009 World Expo of Shanghai, the bridge was renovated to allow access to small vehicles such bikes and scooters besides the pedestrians, improving the connectivity between Jing'an district and Zhabei district.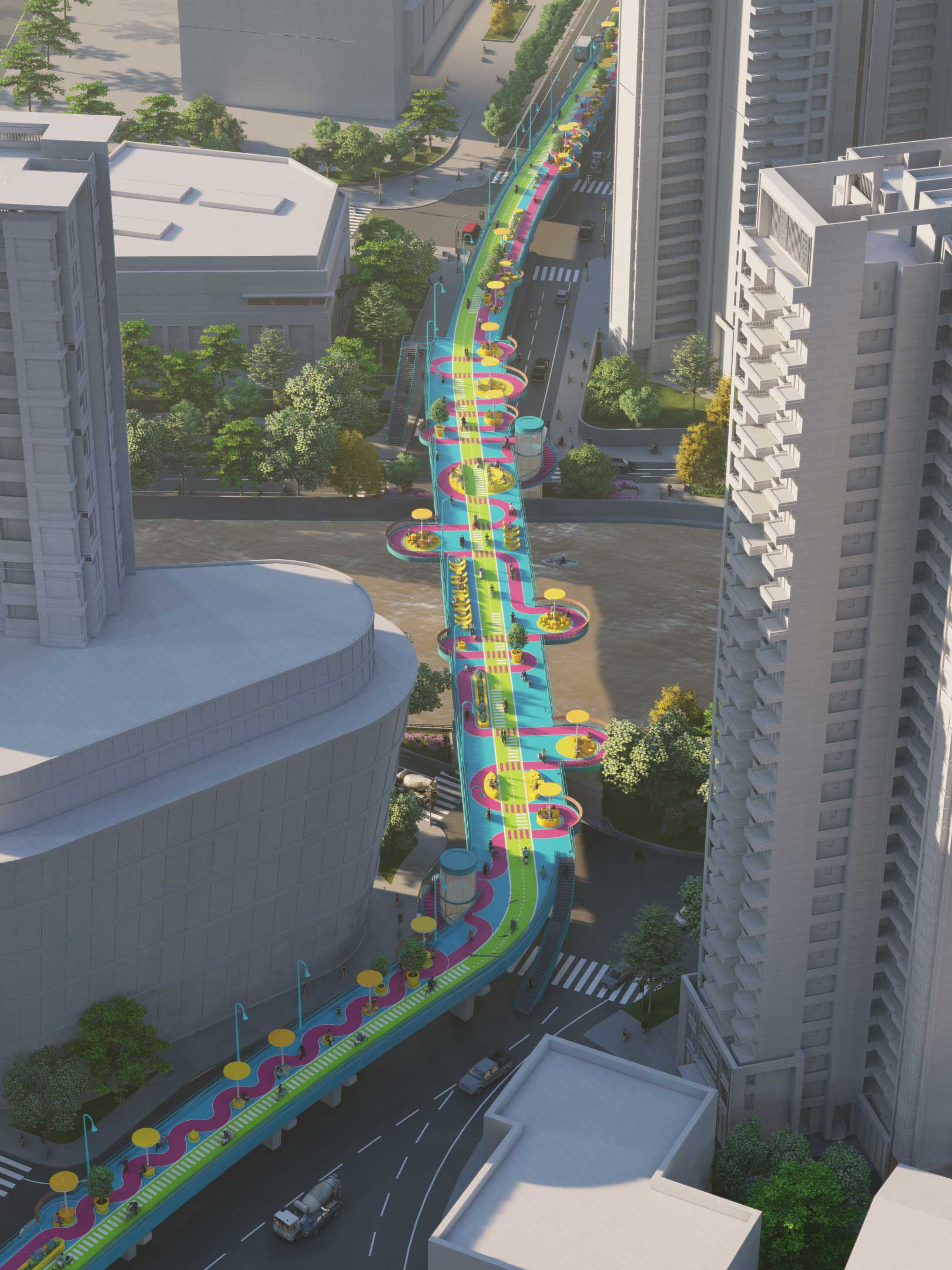 The bridge extends over a kilometer in length as an elevated platform offering unique urban views from one of the most iconic areas of Shanghai. However, the bridge when compared with other crossings on the Creek, is yet to utilise its full potential to become the city's urban landmark.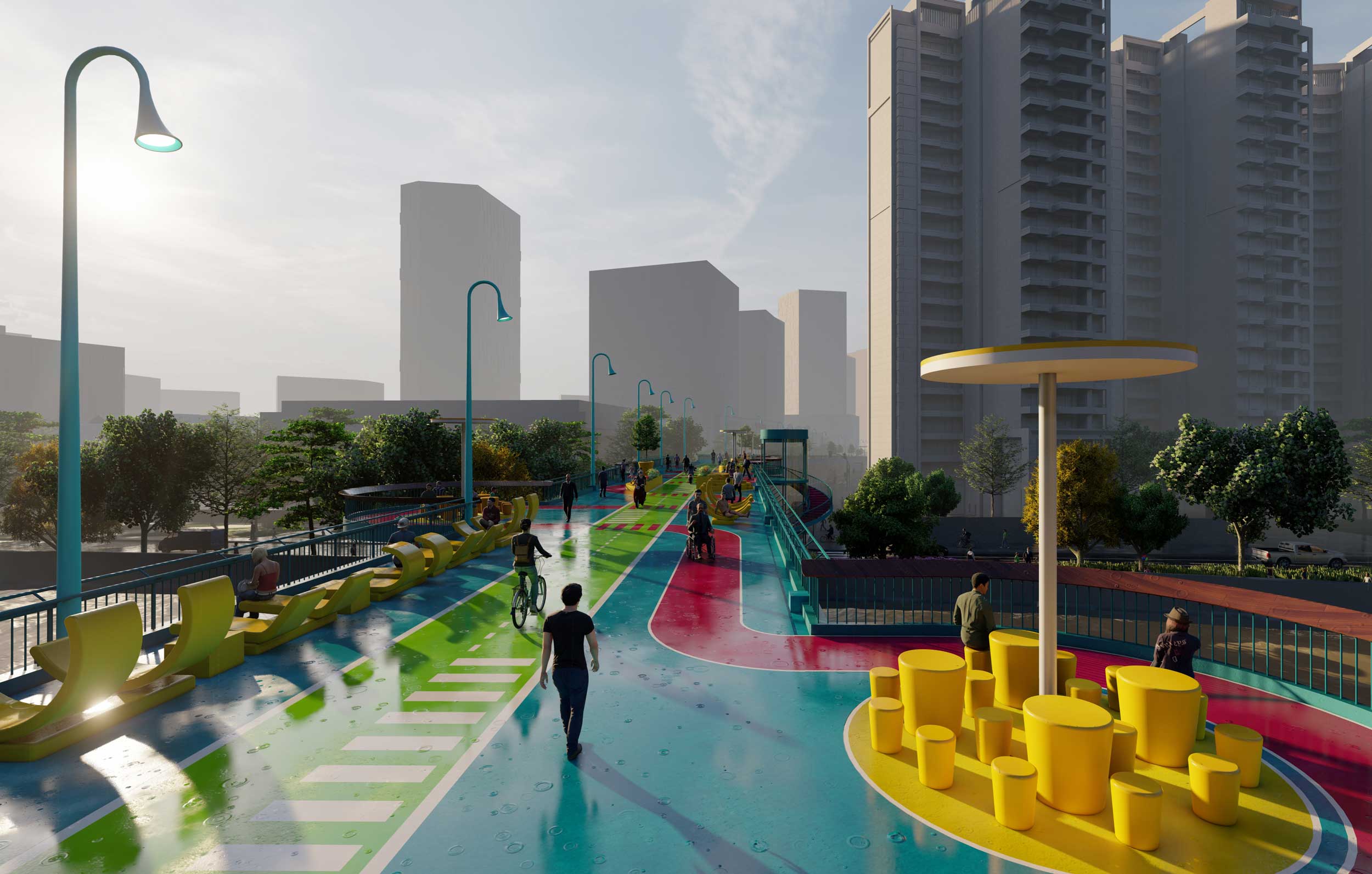 "Our proposal aims to transform the bridge into an eventful elevated park crossing the city offering a unique urban journey through one of the densest areas of Shanghai. The grey asphalt gives way to bold and bright colors, turning the bridge into an eye-catching elevated urban landmark." – 100 Architects team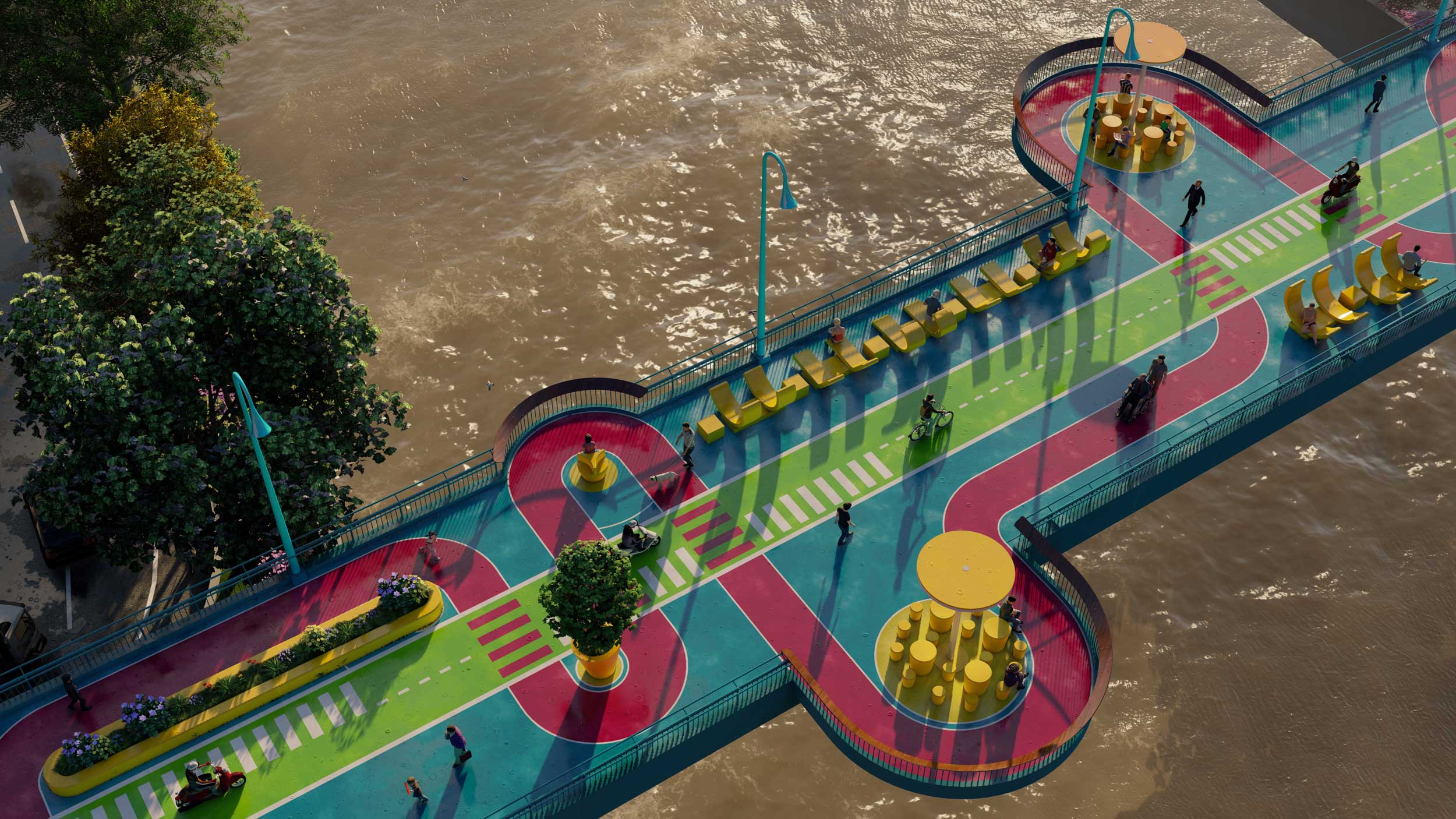 The design strategy of the High Loop organises the different circulations by colours, creating a hierarchy of different rhythms and paces that can be experienced through a passage on the bridge. While a straight lane in electric lime colour defines the fast track for bicycles and motorbikes, a winding path in viscous magenta colour deliberately slows down the pedestrian circulation. A contrasting loop that encourages pedestrians to take it slow, enjoy the journey and the panoramic views over Shanghai's urban landscape and the Suzhou Creek.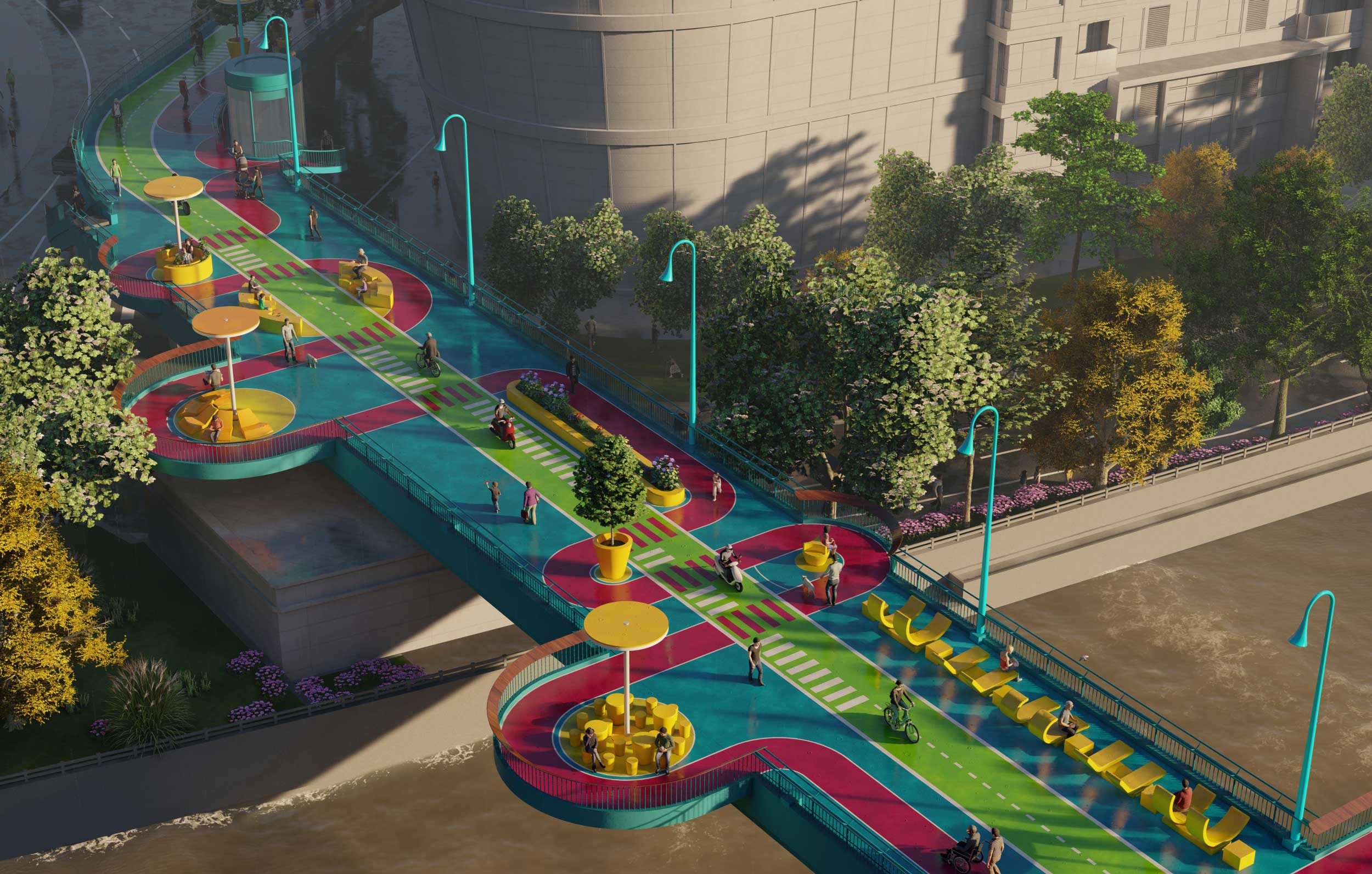 As background colour, a soothing cyan blue creates a compelling space to stop and stay, socialise, meet and gather. From viewing decks to picnic plazas, lounge areas or mini amphitheaters, it's in these cyan blue pockets where all the contrasting yellow urban furniture and social functions are located, allowing the loop to wind around them, encouraging the appearance of those pockets.
In addition, new planters act either as decorative elements or as functional separators of the motored track and the pedestrian path.
Besides those functions, some of the cyan blue patches have been purposely left empty in order to leave flexible spaces to allow the occurrence of informal pop-up night markets and vendors commonly seen in the current version of the bridge.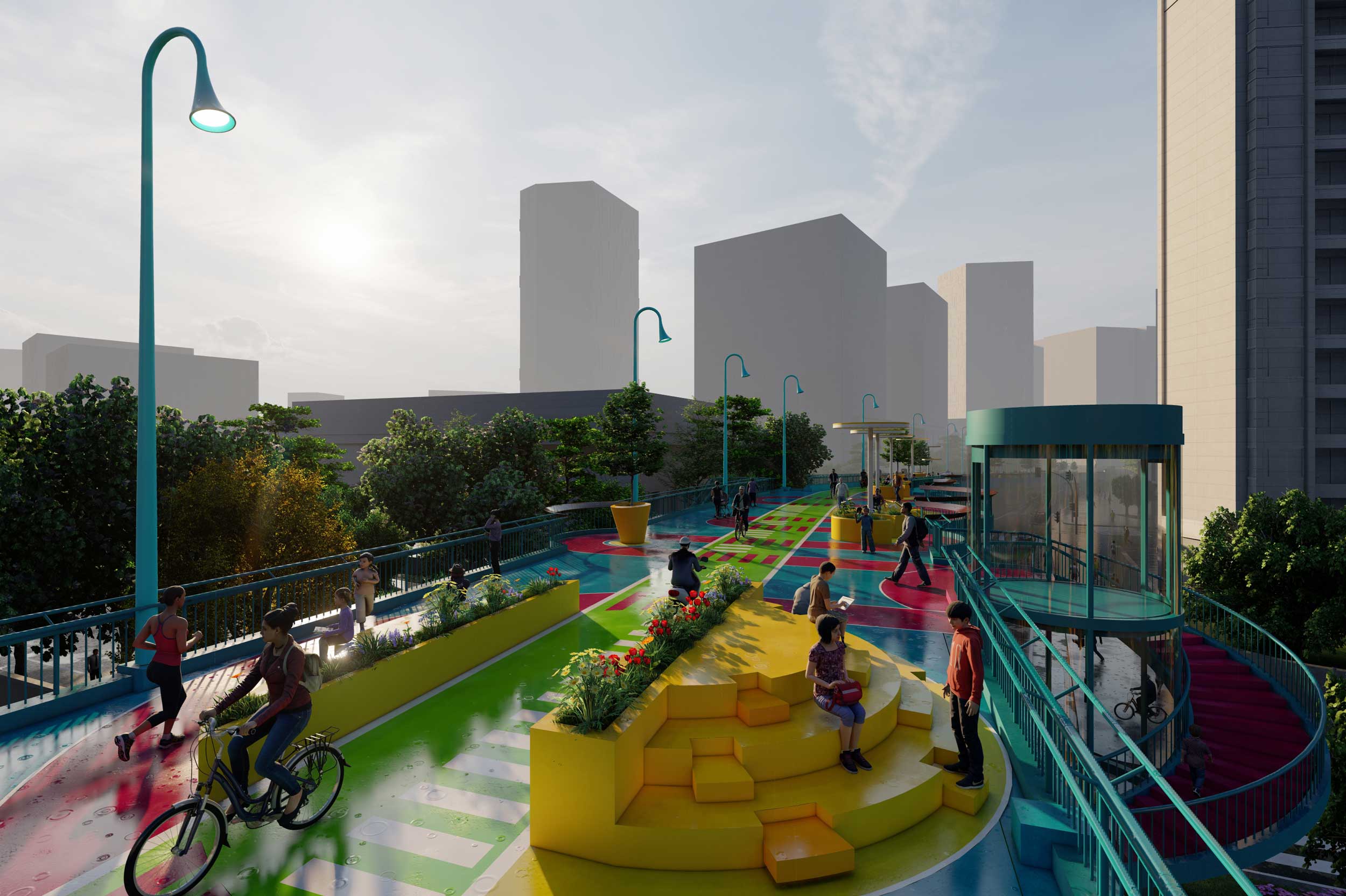 The design does not change the current structure but rather transforms it by only adding a colourful painted scape and functional urban objects on top, improving circulation system, and adding functional pockets.
See the full image gallery and diagrams here:
You might also like:
100 Architects and international partners propose concept for Seoul swimming pool and nature park inspired by South Korean flag
100 Architects designs urban public intervention in the form of playscape in Shanghai's Pudong area
1000 Trees in Shanghai by Heatherwick Studio nears completion