Dubai-based NIU Design Studio has been tasked with designing the interiors of the Umm Al Quwain Free Trade Zone headquarters, which is one of the emirates in the United Arab Emirates.
The client brief asked for a fresh, simple and welcoming environment with lots of natural elements to greet stakeholders when they entered the corporate space. When the project commenced in September 2020, the design team understood that the present need to include design details in terms of safe distance and hygiene measures for the safety of guests and employees as a result of the ongoing Covid-19 pandemic.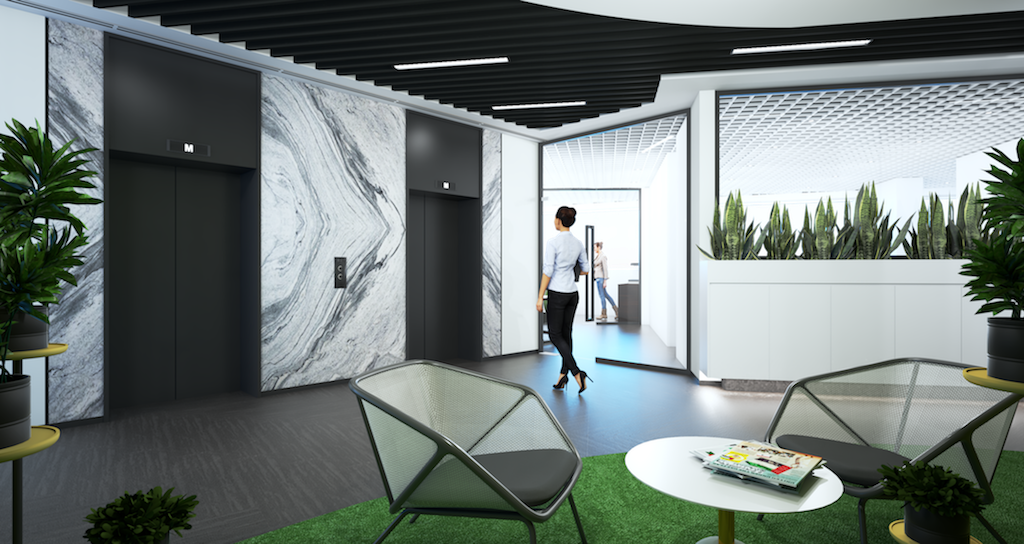 The existing floor plan shaped like a segment of a ring further increased the design challenge. The team also had to divide the floor space to accommodate the maximum number of client service facilities. This led to the challenge of creating a stimulating and visually-appealing interior around the existing massive structural columns while allowing for social distancing, capacity guidelines, and flow within the limited space. For instance, desks and seating have been allocated and distributed to encourage social distancing and positioned in such a way that users do not have to face their co-workers.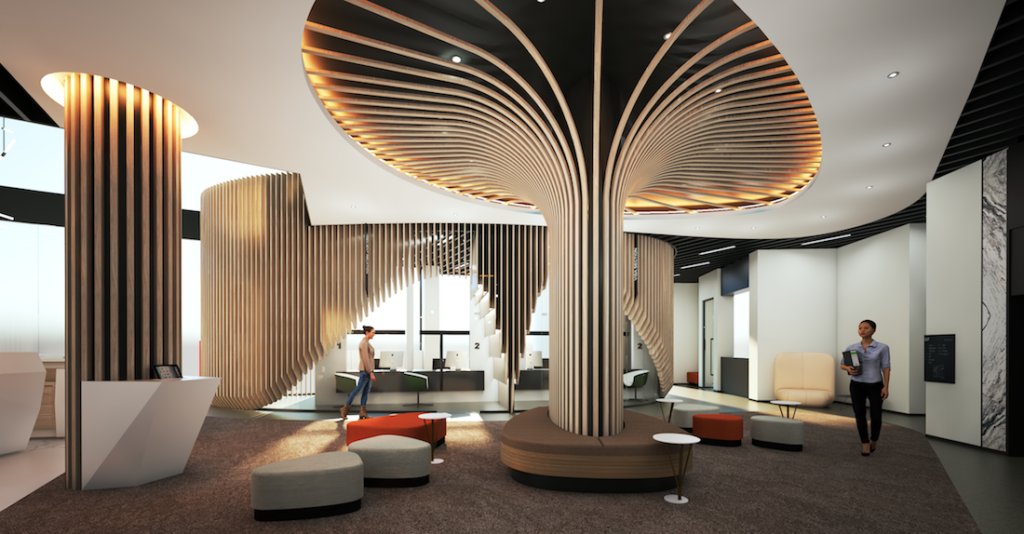 The team turned towards nature-inspired elements to arrive at a solution that balanced the two considerations. Wooden slats from sustainable American Hardwood create louvres to conceal the structural columns, provide discreet lighting, and suggest separate areas while maintaining open sightlines. The dramatic centrepiece is a 3.5-metre high organic element mimicking a massive, ancient tree. Seating is constructed at the base of the tree trunk and scattered about in comfortable pebble-shaped pouffes.
At the double-height 8-metre-high ceilings at the main entrance, the customised main reception and information desk makes a bold statement in white Corian. Similarly, the smaller info point units were also crafted from Corian that is easier to maintain the required hygiene standards in places that receive a large footfall.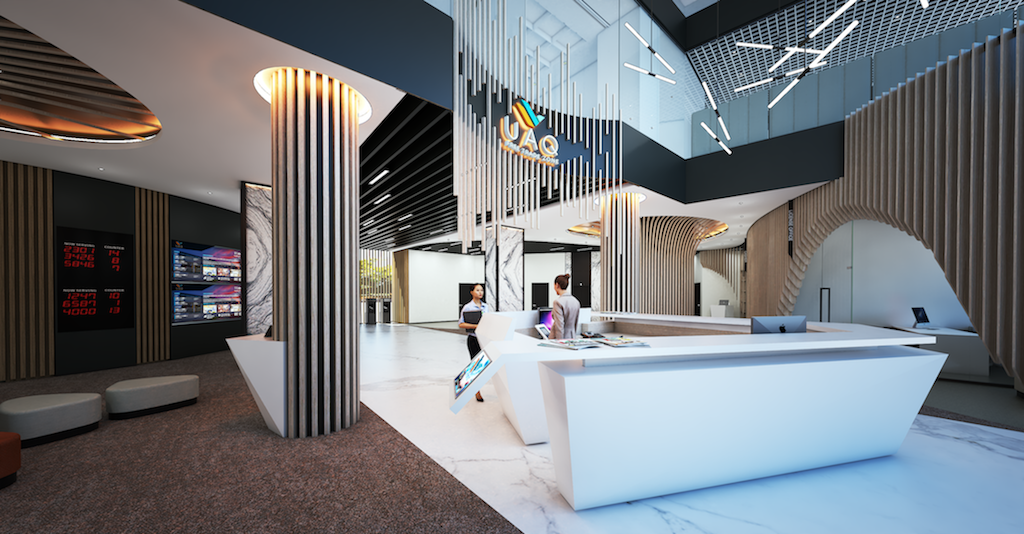 Desks and seating have been allocated and distributed to encourage social distancing. Desks are partitioned and positioned so that users do not have to face their co-workers.
In keeping with the Covid-19 guidelines for traffic flow management, the white Carrara marble floor links the main entrance to the rear door and elevators. For contrast, some of the structural columns were rendered in ceramic. Keeping to its sustainable ethos, NIU Design Studio has used Shaw Contract carpets made from recycled plastic bottles that provide soundproofing as well as comfort.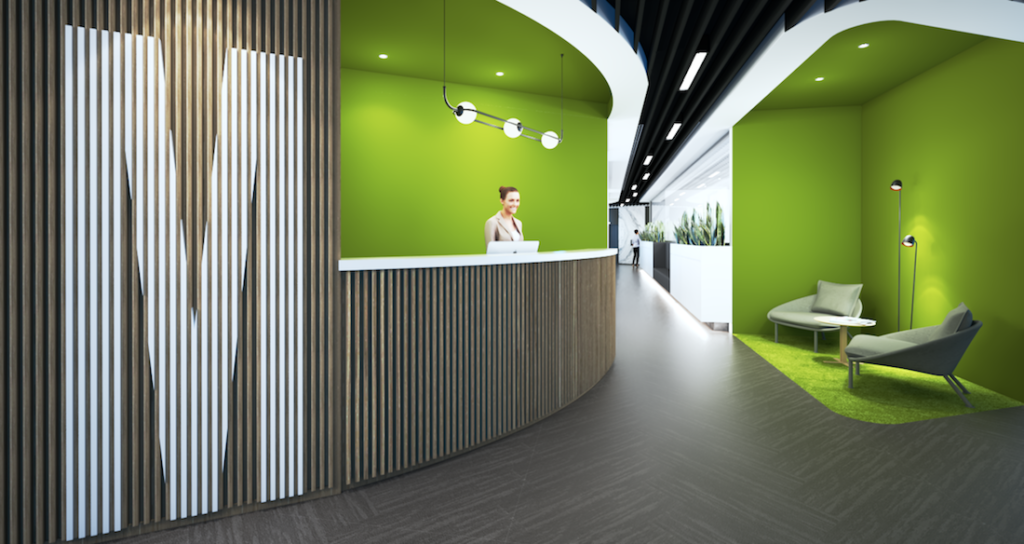 The earthy ambience extends to the mezzanine and first-floor levels where floor-to-ceiling windows flood the interior with natural daylight. Chairs in the 50m2 conference/multi-function room replicate the slat motif. Accent walls painted in shades of sky blue and green and the presence of plants reinforce the natural theme. Signage and wayfinding elements are also incorporated into the wooden planks on all three floors.
You might also like:
Dubai's new snack bar concept by NIU Studio is inspired by retro elements and futuristic spaceship
Roar studio blends Japanese minimalism with Emirati craftsmanship and data-based design in Takeda's Dubai offices
iplus Architecture designs indoor-outdoor office space for tech-based firm inspired by work from home concept