In a dense city like Hong Kong, where real estate is at a premium, repurposed spaces are the kind of urban intervention that can vastly improve the lives of its inhabitants. Siu Hei (smiles and laughter in Cantonese) Court Play Space by One Bite Design Studio is one such project that was recently recognised – for its outstanding use of space – with the Singapore Good Design 2021 (Gold Award).
Offering a fulfilling play experience to everyone regardless of their age, ability or interests, the revitalised multi-level intergenerational play space has a gridded playscape with running tracks and courts for various ball games and more. This transformation of a decrepit rooftop sports ground of a housing estate in Hong Kong creates a new identity for Siu Hei and demonstrates the untapped potential in rooftop playgrounds.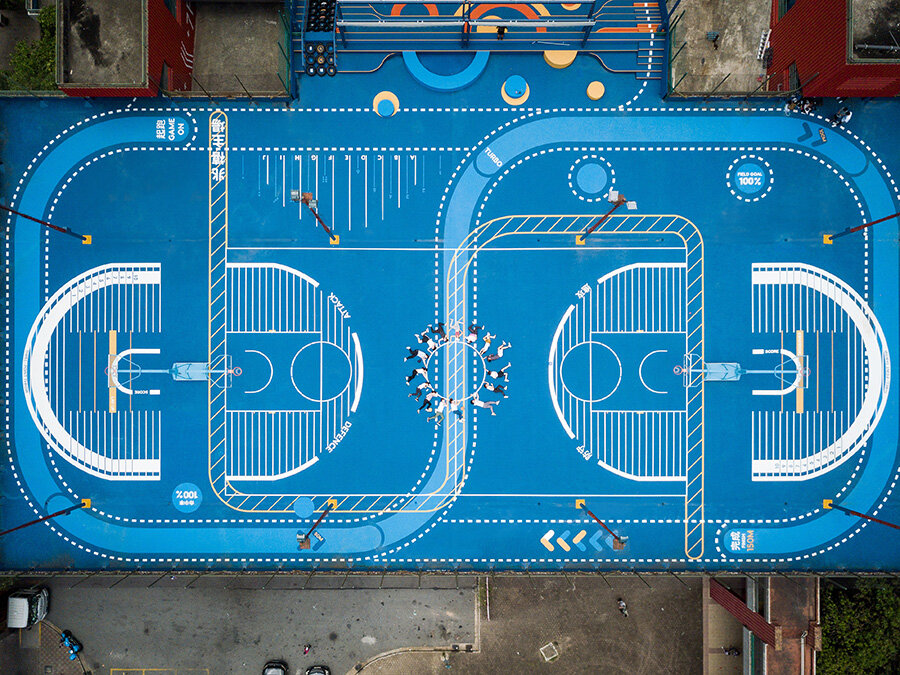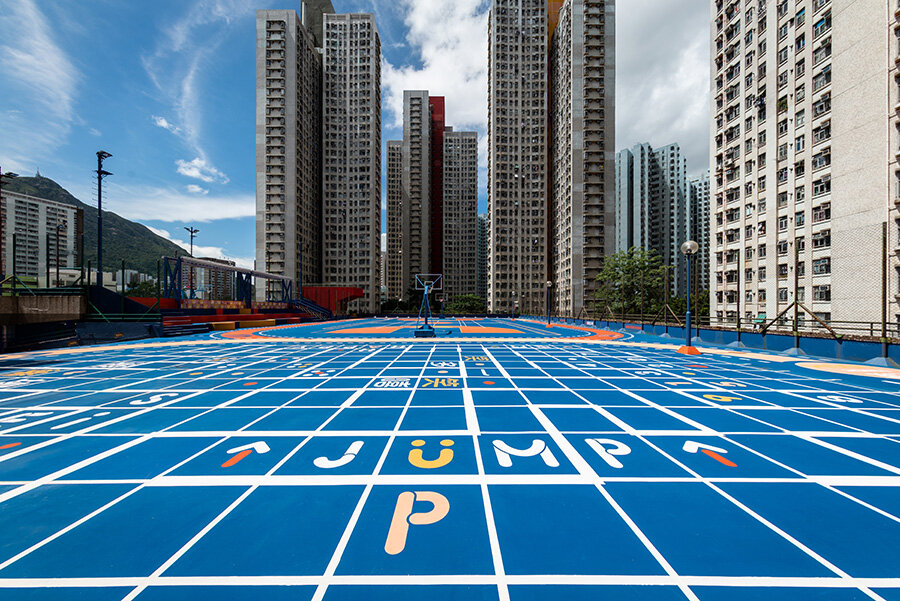 Having completed Kai Yip Recreational Sports Ground in 2018 and Cheung Hang Estate Basketball Court in 2019, One Bite was once again commissioned by Gaw Capital / People's Place to revitalise a 40,000ft2 rooftop sports ground at Siu Hei Court, Tuen Mun.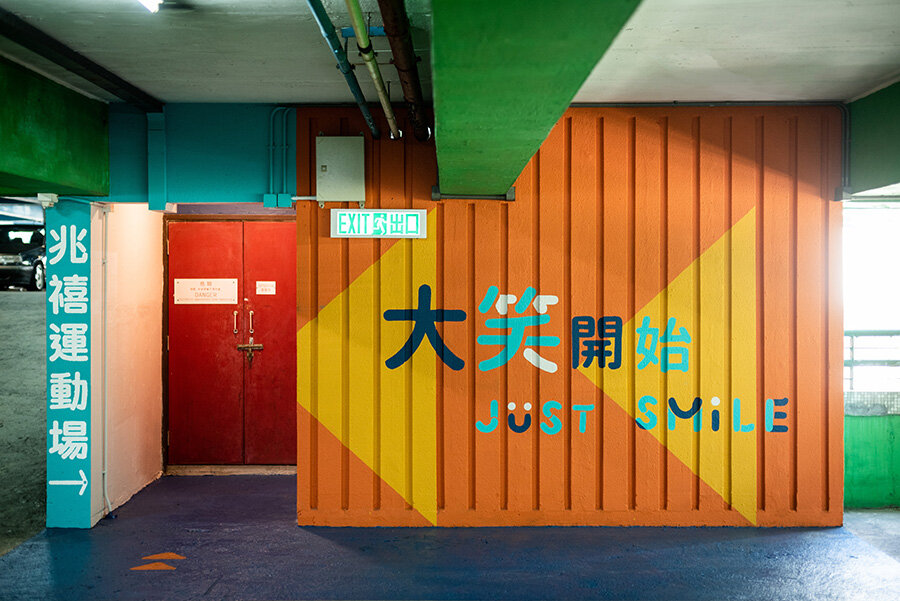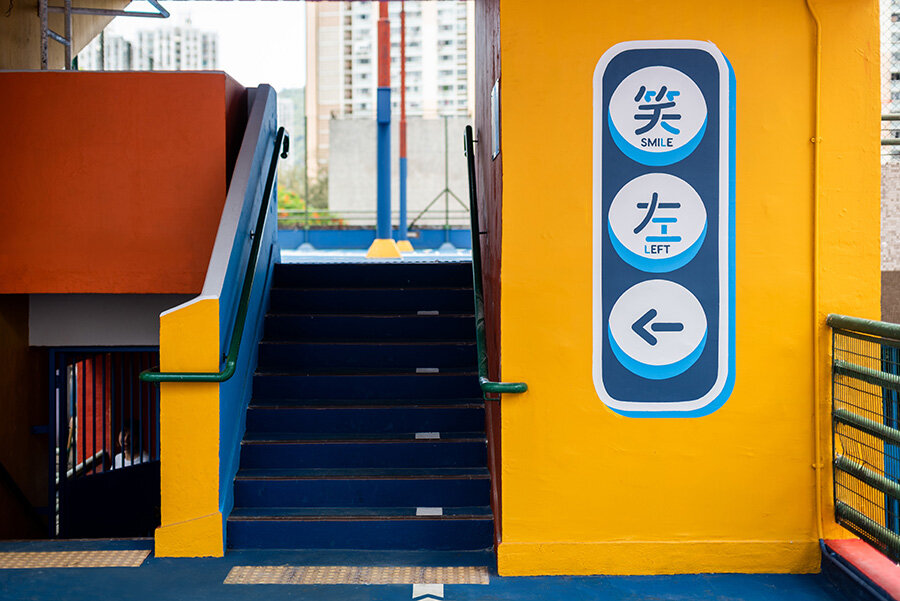 This revamp aims to inject energy and positivity to the neighbourhood and to give the facilities a much-needed upgrade. Taking the iconic bright red colour that can be found on the ramps and stair hoods around the estate, the colour palette is expanded to include an array of energetic and youthful colours. Graphical elements and custom typography designed by local design studio Never-Never both share the language of curved, rounded lines to represent varying degrees of smiles. This theme was applied to the revamp of the market below.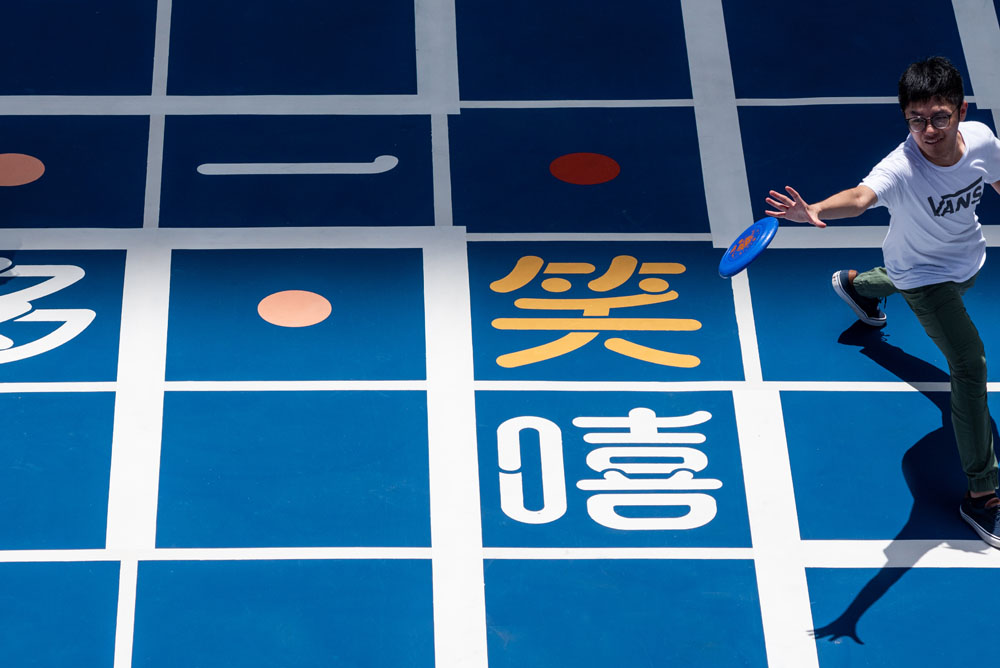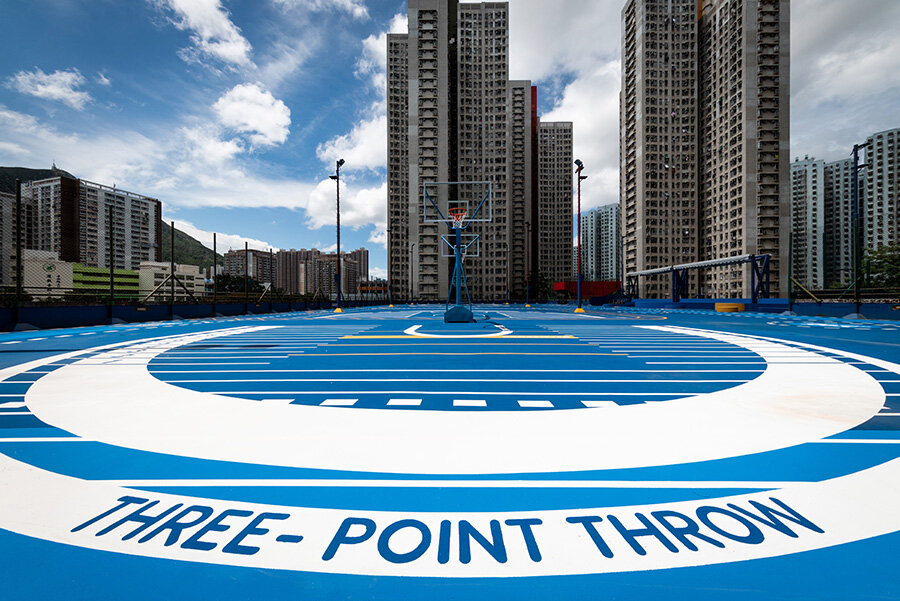 The floor graphic on the sports ground is designed with hidden messages to create visual interactions with surrounding residents. Visible from one side is SH, short for Siu Hei, and from the other is 85, the year when Siu Hei Court was built. In addition, hidden smileys can be found facing all four sides of the court, meant to evoke a sense of joy among the residents.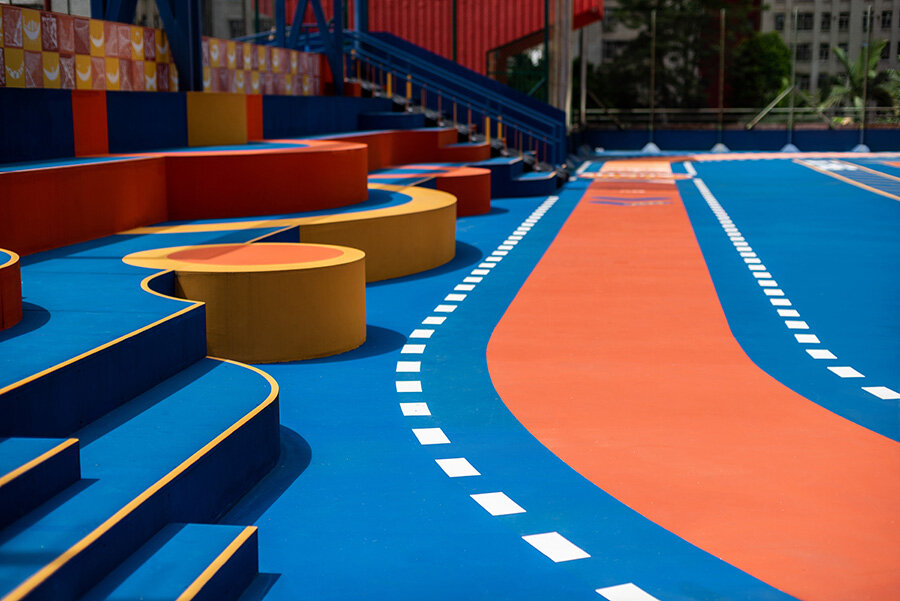 The split-level playground is reconfigured with additional features to cater to the needs of different users. The lower level is a multi-functional play space, with a basketball court, badminton court and volleyball court, a 150-meter long running track, as well as a gridded playscape that encourages unstructured and creative play. Basketball court markings are modified to add another dimension to the sport- fun games could be freely invented to hone one's shooting accuracy.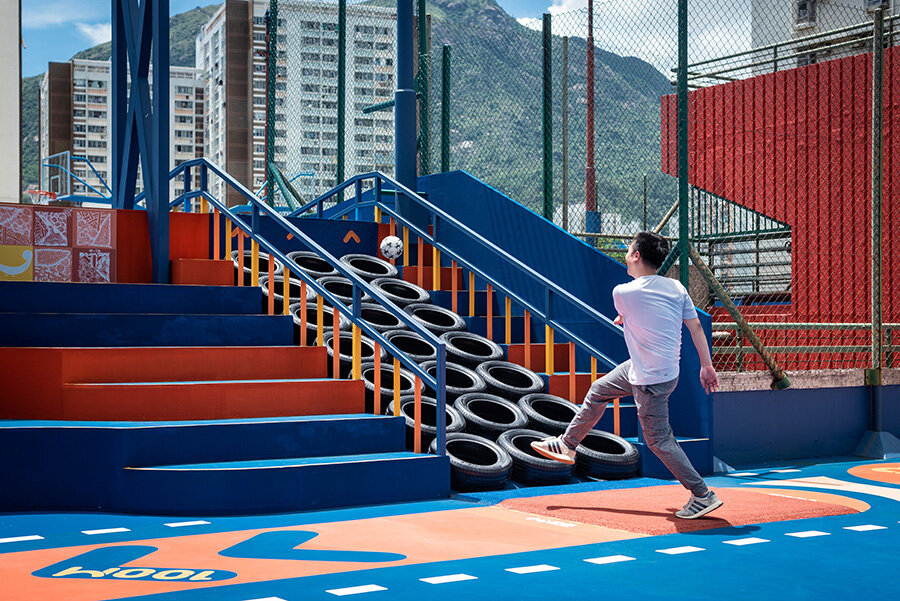 New design elements are introduced to the sports ground with dual functionality in mind. Spectator seating is added to provide a shaded resting space for users, as well as to connect the split-levels to create a more welcoming environment. A car-tire installation, reminiscent of old playgrounds in Hong Kong, was installed as special seating and as targets for throwing games. Various interactive wall art and installations are also available to provide a variety of experiences for users with different interests.
Project details
Type: Exterior | Sports Ground
Location: Siu Hei Court, Tuen Mun, Hong Kong
Client: Gaw Capital / People's Place
Year: 2020
Area: 4,000m2

Collaborator: W.f.b. Mantra Institute Nursery School, The Lotus Association of Hong Kong Siu Hei Court Kindergarten,Yan Chai Hospital Law Chan Chor Si Primary School, Lung Kong World Federation School Limited (LKWFS) Lau Tak Yung Memorial Primary School, New Life Psychiatric Rehabilitation Association Institute
Typeface Designer: Never-Never
Certified Playground Safety Inspector: Play Concept Limited
Photographer: Gaw Capital / People's Place & Tai Ngai Lung
Videographer: Gaw Capital / People's Place & Marvin Tam
One Biters: Alan Cheung, Eleanor Fu, Sarah Mui, Melody Siu, Tony Zhang
You might also like:
Avoid Obvious Architects designs playful and interactive childcare centre for at-risk families in Hong Kong
100architects designs equestrian sports-inspired urban playground for all ages in Chongqing city
Weaving Dream playground installation in Chengdu by Atelier MIC mimics surrounding woods and rolling hills