This house designed by architect Lalith Gunadasa is located on Alakeshwara Road, a dense urban residential area in Ethul Kotte, Sri Jayawardenapura, the official administrative capital of Sri Lanks. The project was commissioned by a young professional couple with busy lifestyles, who wished for a modern house where they can unwind and enjoy the tranquility.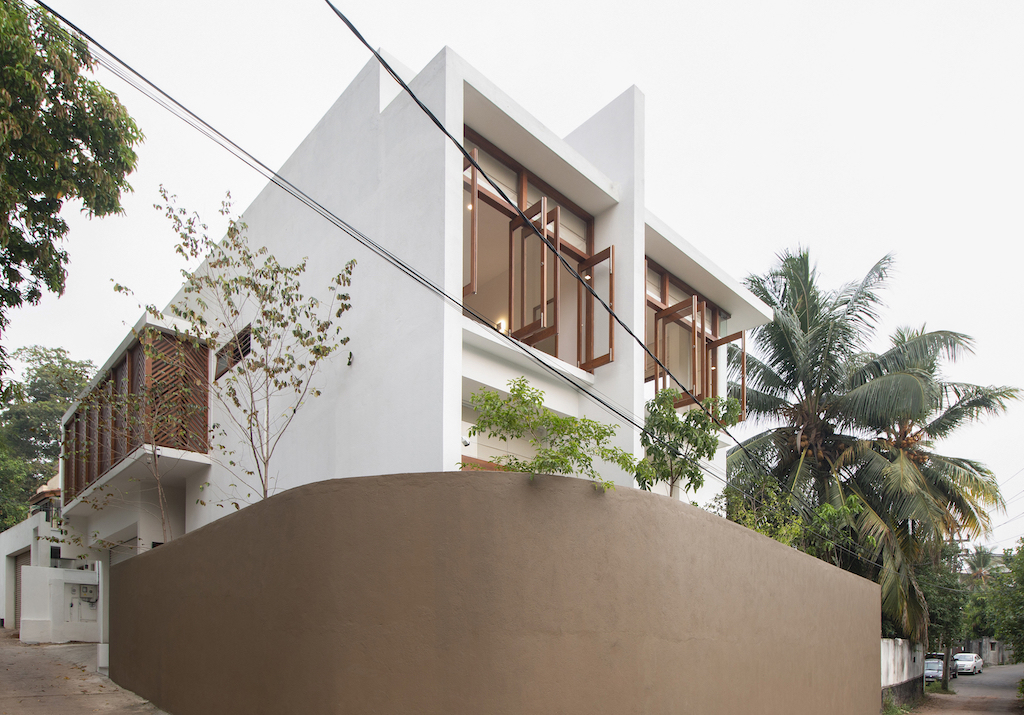 To achieve the clients' demand and respond to the site and its context, the architect conceptualised the design as a web of internal rooms and outdoor gardens that together create the illusion of endless spaces on what is, in reality, a 354m² plot of land. The house has two stories, with the first floor consisting of two-vehicle parking, living area, visitor room, dining, pantry, and service area.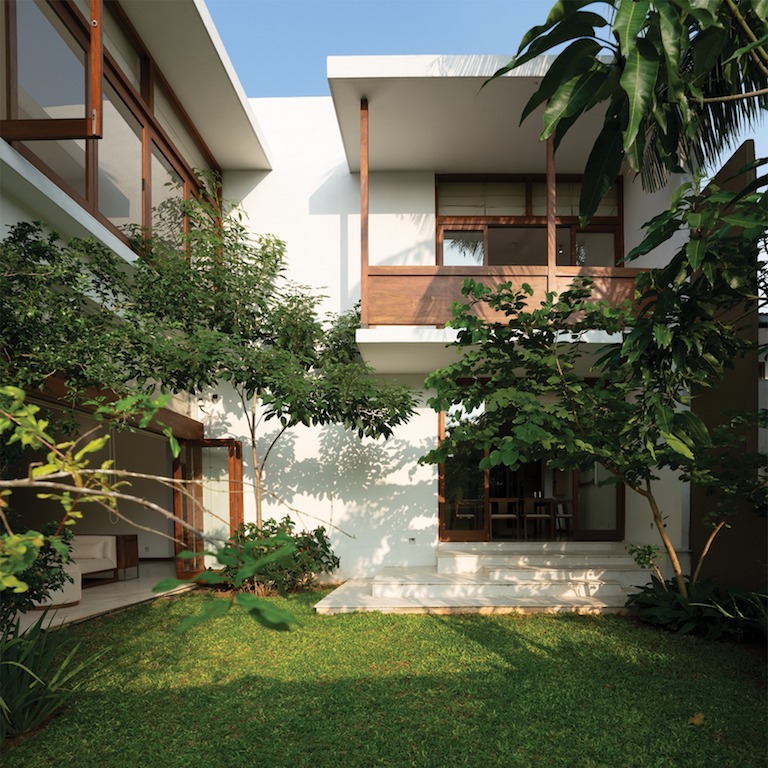 By managing a slope of 1.21m from east to west of the plot, first floor spaces placed on different levels enhancing the visual interconnection of each activity and rhythmic playfulness of spaces. Naturally elevated ground level from the road enhances the achievement of a maximum level of privacy from outside while retaining a full view of marshy land from the garden as an extension of the view.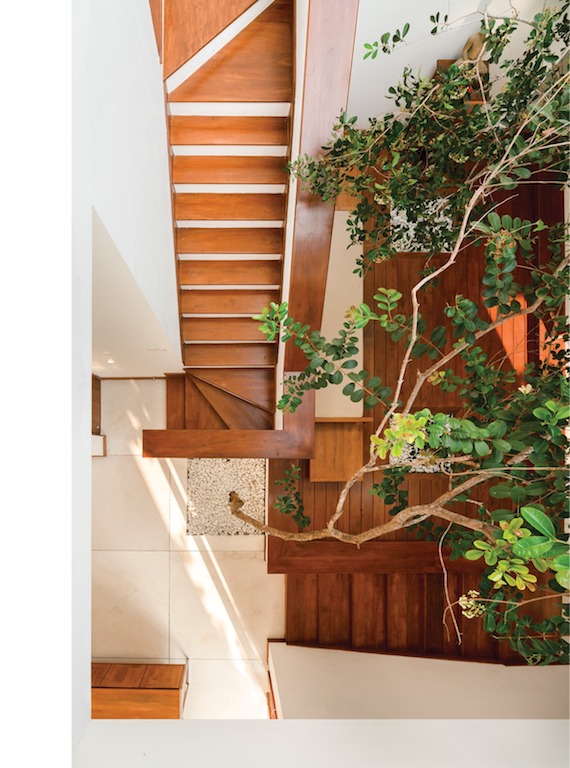 The linear narrow entrance, focusing on the open courtyard, leads to the voluminous open living area with large timber and glazed full-length windows filled with natural light. The heart of the house builds interaction between all spaces horizontally and vertically, while the wooden columns and floor together lend a warm, contemporary atmosphere while referencing the old Sri Lankan vernacular courtyards.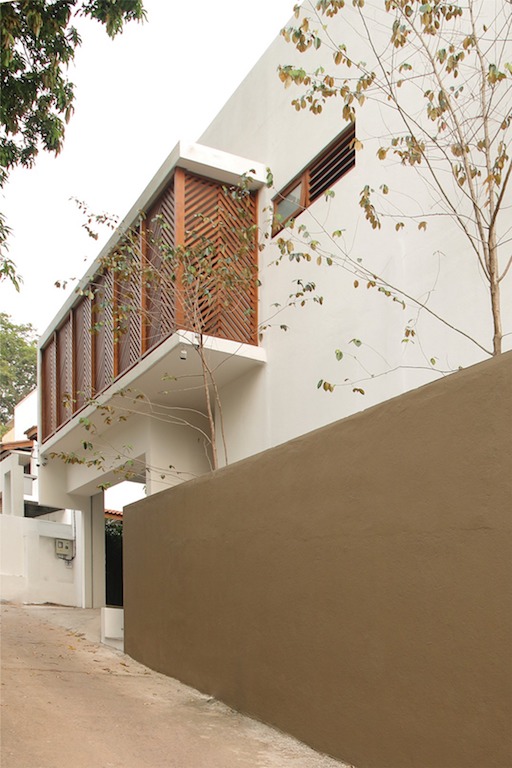 You might also like:
Architect gets around curved site challenge by taking introverted approach for tropical Sri Lanka residence
Damith Premathilake Architects designs tropical modernist house in Colombo overlooking paddy fields
Studio Toggle's contemporary reinterpretation of traditional courtyard house in Kuwait maintains cultural norms
Straight and pure lines, simple forms, unobstructed views, and huge volumes with lots of natural light, blur the distinction between the indoors and outdoors. White painted walls and white terrazzo floors reflect the daylight making the spaces seem larger. Without clear boundaries, the integration of areas like the dining and pantry reveal a sequence of spaces combining expansiveness and symbiosis. The kitchen is located next to the pantry area, concealed from visitors. The visitors' room is adjacent to the living area on the same floor, without interrupting the common activities on the first floor.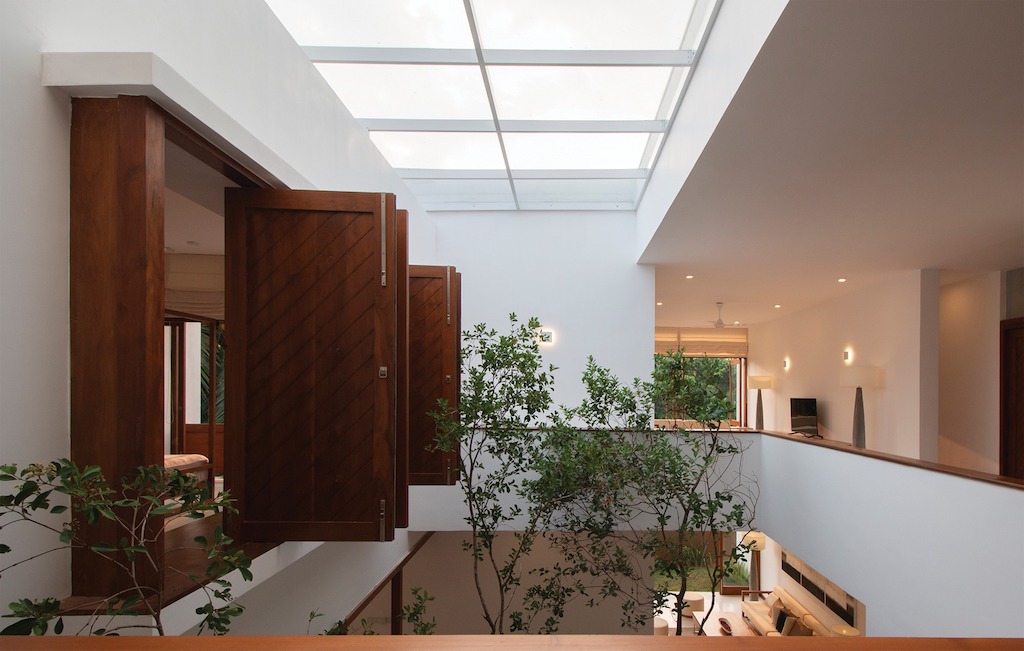 The second floor comprises a TV-cum-family lounge, master ensuite bedroom, private gym, and a library with study area. Master bedroom and one of the second rooms fully open out to the marshy land same as the TV cum Family living area and all major spaces of Ground and upper levels interact between master bedroom trough the center courtyard. Another room fully opens out to the rear garden and to the road, protected with large timber-screens. This helps to ensure ventilation and natural light while providing privacy and security. The roof has been designed as a terrace for multipurpose activities and a space that offers unobstructed views.
See the full image gallery:
Photos: Dilanka Bandara