Irthi Contemporary Crafts Council,  a Sharjah, UAE-based organisation focused on empowering women through craft, will debut its first exclusive product line at an exhibition at London Design Fair, taking place from September 19 to 22 this year. As the fair's official guest country pavilion, Irthi's showcase will represent the craft and design talent of women in the UAE, giving the country's craft practitioners a high profile international platform to present their talent.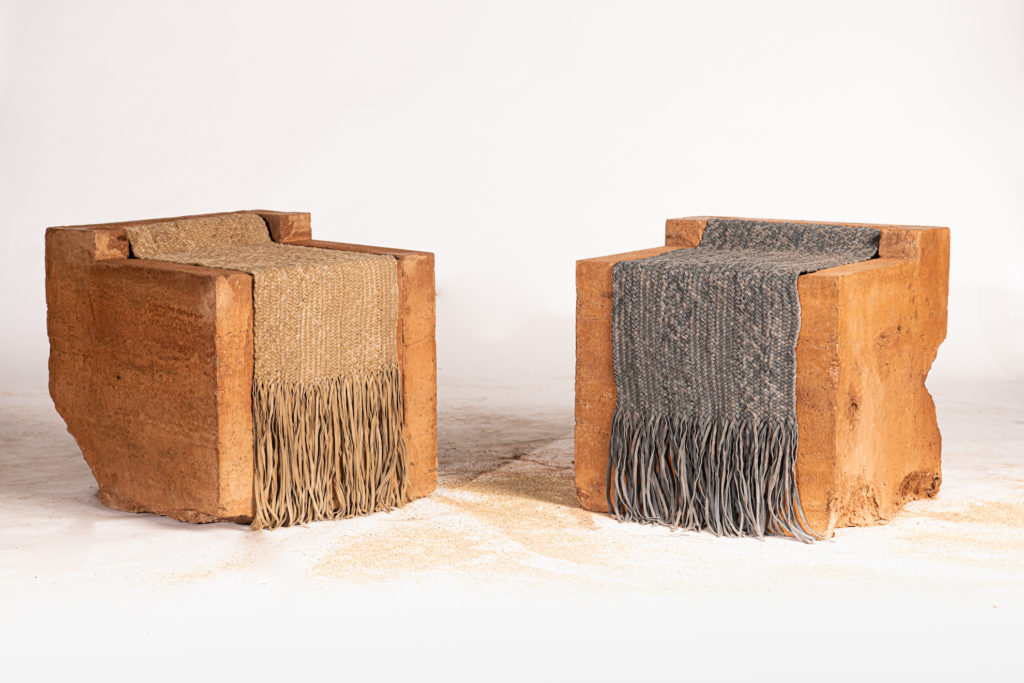 The first range of crafted design objects is the result of two initiatives: Design Labs and Crafts Dialogue, both of which are founded on the creative potential of collaboration. Although based in the UAE, both programmes take an international approach.  The UAE pavilion will feature contributions from Pakistan, Japan, the US, the UK, Spain, Italy and Palestine, alongside regional artisans.
Each collection includes three to 10 items, all made by hand by over 40 female artisans employed by Irthi's Bidwa Social Development Programme. Based in the Sharjah city of Dibba Al Hisn, Bidwa aims to give Emirati women practising traditional handicrafts such as talli (hand braiding) and safeefah (palm-frond weaving) the training and market access they need to generate a sustainable income and achieve professional and social empowerment.
Inspired by the forms and materials of the UAE's natural landscape, Irthi's guest country pavilion will be designed using wood and camel leather to create a distinctly organic display environment.
"Each year we nominate a guest country, drawing special attention to activities and creatives in the chosen region. We have long since been intrigued by the Middle East, nowhere more so than the UAE with its ambitious plans to develop its creative sector. The establishment of Irthi Contemporary Crafts Council focusing on female artisans in the UAE, MENASEA and Central Asia is just such a great initiative and we are honoured to host the UK launch of their first product line at the Fair. " – Jimmy MacDonald, founder & director, London Design Fair.
All products featured will be available as limited editions.
Fatima Al Zaabi x Matteo Silverio vase, lamp and phone charger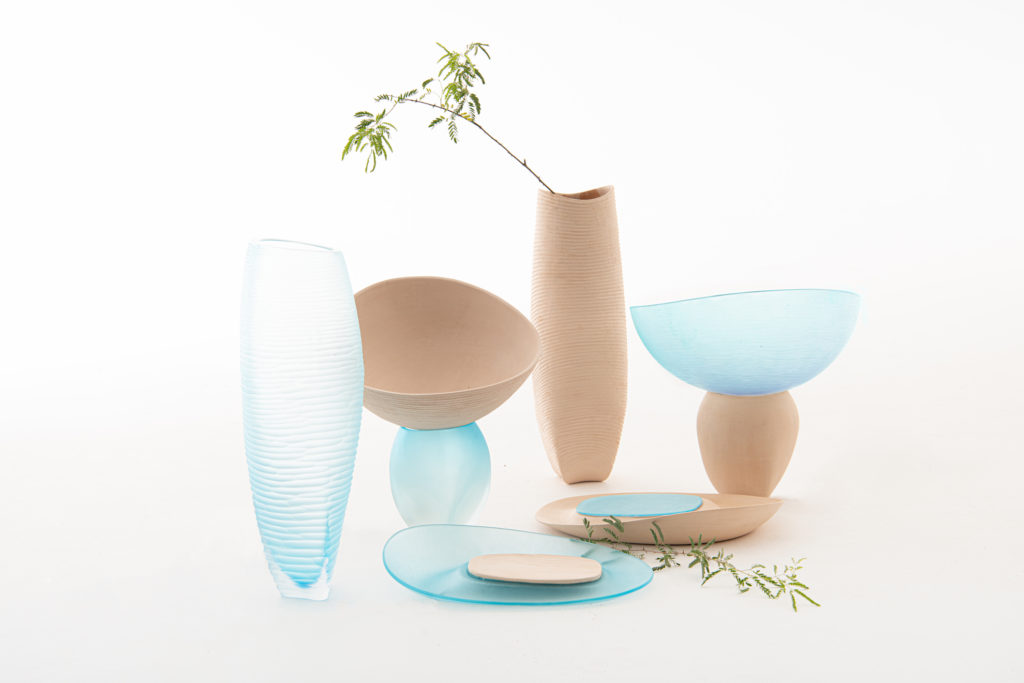 Al Zaabi and Silverio's product collection is the result of an experimental exploration into how Murano glass – an inherently fragile material – and Emirati clay – by nature, sturdy and hardwearing – might be combined to form a single object. As well as its innovative material combination, the collection also seeks to enrich craft practice by merging handmade and computerised techniques – tradition and innovation working in harmony. Parametric design and digital fabrication tools were used to create moulds while artisans used their hands to manipulate the form of the glass and clay within them.
Ghaya Bin Mesmar and Mermelada Estudio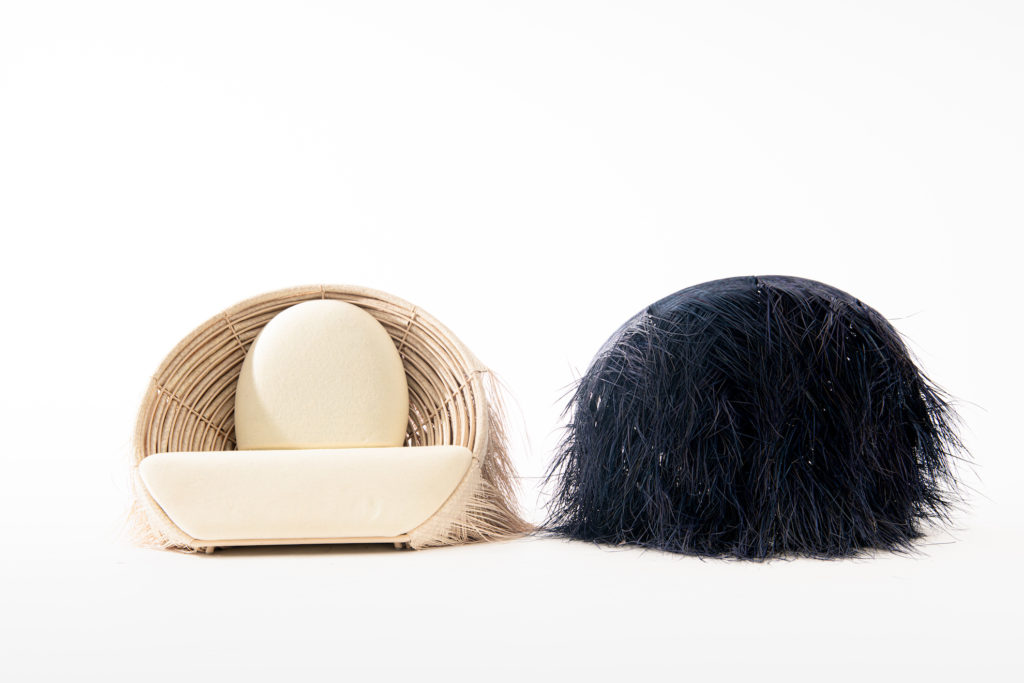 A single image of a desert house inspired Ghaya Bin Mesmar and Mermelada Estudio's design for a new chair. The traditional areesh house – made from palm fronds – had been blown down by the wind, making it look like a majestic cone. Taking this conical form, the chair allows for both privacy and protection from the elements. It combines traditional and modern safeefah (palm-frond) weaving techniques and its vibrant colours are inspired by traditional spices.
Pepa Reverter and Abdallah Al Mulla's clay stools and tables
These items have been designed to create totem-like sculptural forms when stacked. A decorative belt wraps around the clay stools and tables, incorporating the Emirati safeefah palm-frond weave. The furniture, however, goes beyond visual novelty: the sheer scale of the objects – more than 60cm in diameter and 100cm high – pushes clay design to its limit.
Adrian Salvador Candela x Shaikha Bin Dhaher Fruit bowls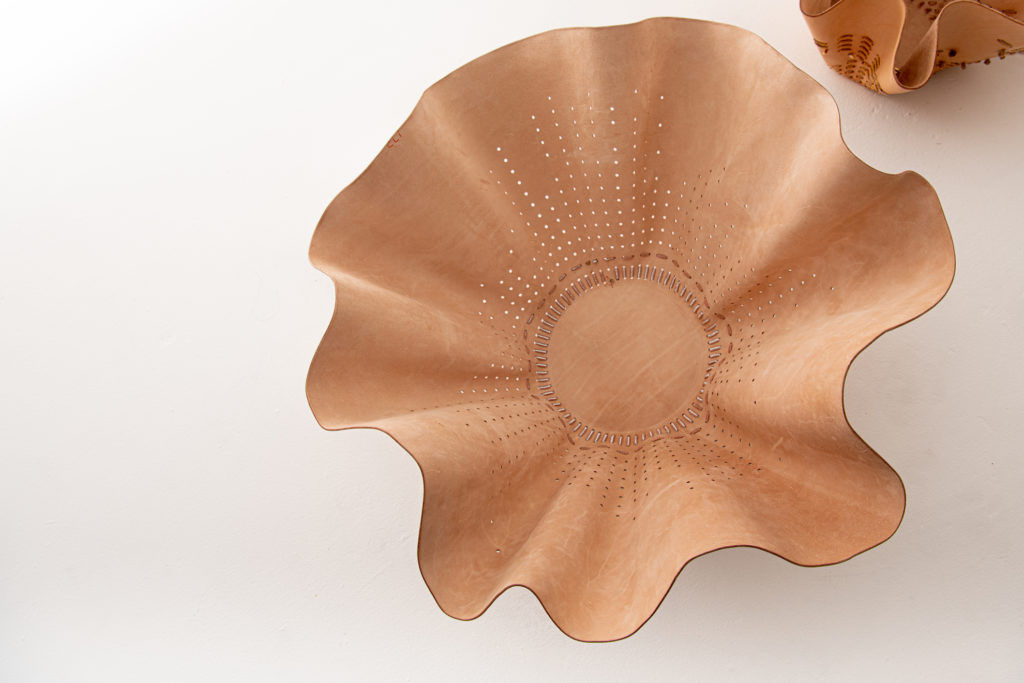 Embracing the natural, mouldable qualities of leather and the subtle expressiveness of talli weaving (traditional hand-woven braids), these sculptural, curvilinear bowls are reminiscent of both desert dunes and the drapery of women's veils, while the colours and textures, which form naturally when exposed to water and sunlight, evoke images of weathered hands weaving leather threads.
Products created through the Design Labs programme include: Tapestries by Irthi and Kazuhito Takadoi Safeefah x Japanese grass These Japanese washi paper tapestries are the fusion of two traditional crafts: Emirati safeefah and Japanese grass weaving. These tapestries were made in collaboration with Kazuhito Takadoi, a UK-based Japanese artist who specialises in the weaving and embroidering of natural materials. Takadoi's work has been acquired by the V&A Museum and, in 2019, he was shortlisted for the 2019 Loewe Crafts Prize.
Bags by Irthi and Jennifer Zurick Safeefah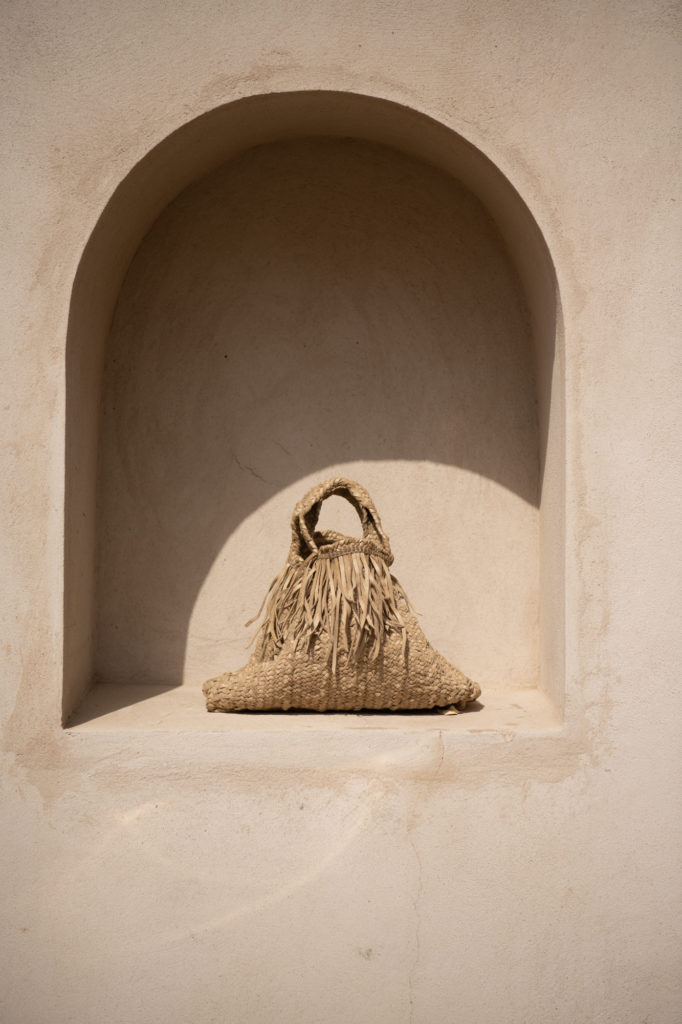 This collection of sculptural handbags created using traditional safeefah weaving techniques to braid strands of camel leather is the result of a collaboration with Jennifer Zurick. A self-taught ARTIST based in Kentucky, Zurick specialises in black willow bark which she has been harvesting and weaving into baskets since 1980. Her work has been acquired by the Smithsonian Museum and she has been commissioned by luxury fashion house Loewe.
Vessels by Irthi and Dima Srouji Oud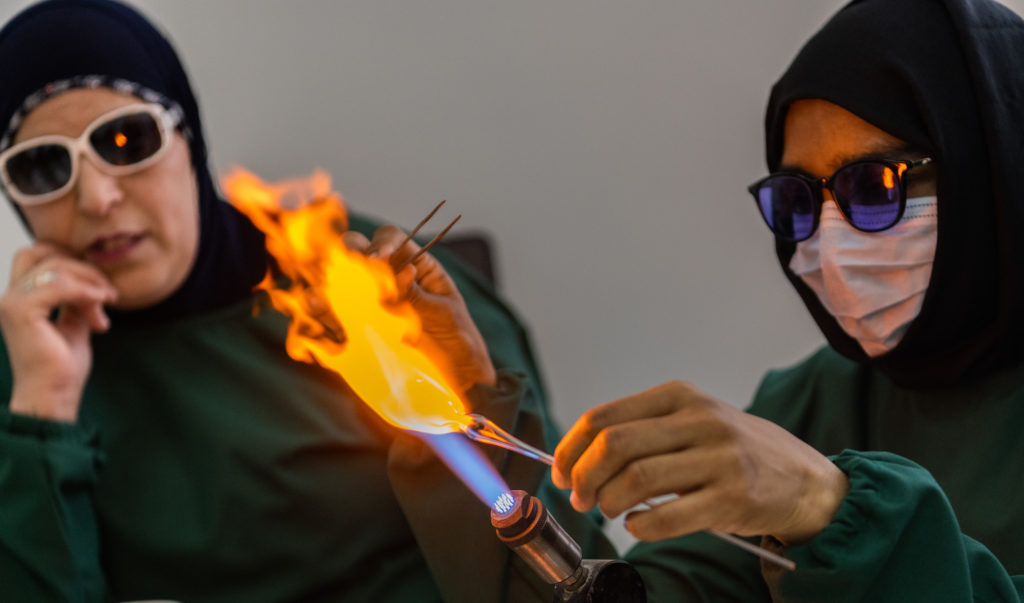 Palestinian architect and designer Dima Srouji collaborated with glass-blowers from the UAE, employing traditional techniques to develop contemporary forms. The Bidwa trainees involved produced perfume and oud bottles alongside small glass beads – forms inspired by the natural Palestinian and Emirati landscapes and by textures such as cactus, coral stone and jellyfish. Glass-blowing is one of the oldest and most technically complex craft skills in Palestine, where glassware is traditionally produced from sand and sodium carbonate from the Dead Sea.
Misbah jewellery by Irthi and Lél Talli
To create these collections, Bidwa trainees collaborated with Pakistan-based Lél whose workforce consists of displaced Afghani artisans. The collections focus on misbah prayer beads as both pieces of jewellery and sculptural designs for the home. For the jewellery, Bidwa trainees employed traditional talli weaving techniques to create interlacing of gold and silver thread finished with beads of lapis lazuli. Intended for the floor, to be hung on walls or simply displayed on a dining table, the decorative misbah were designed by Lél's stone artisans using Emirati door motifs as inlays, while the Bidwa artisans combined talli methods with macramé to create 3–8m misbahs of engraved and inlaid stone, resin and wood.
Midkhans by Irthi and Adi Toch Oud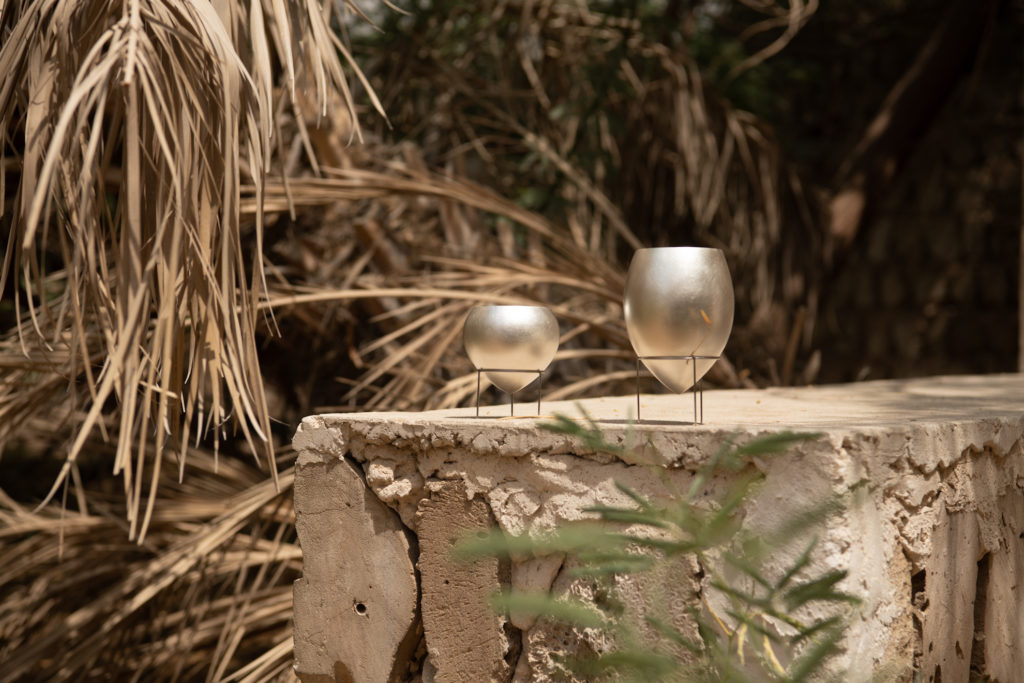 Used to burn incense and spread its fragrance around the home, midkhans are among the most common objects found in Emirati households. Working with the V&A and LOEWE-shortlisted artist Adi Toch, Irthi's Bidwa trainees mastered metalsmithing, hammering, and using organic materials to dye metal to create a new modern family of unique midkhan designs.
Irthi Contemporary Crafts Council has as its patron His Highness Sheikh Dr Sultan bin Muhammad Al Qasimi, Member of the Supreme Council and Ruler of Sharjah, and chaired by Her Highness Sheikha Jawaher bint Mohammed Al Qasimi, wife of His Highness the Ruler of Sharjah. It will debut its first product line as the official Guest Country Pavilion of London Design Fair in the Old Truman Brewery. Irthi Contemporary Crafts Council launches first product line at London Design Fair.