Bali-based architecture practice StudioWNA has designed Veluvana Bali, a luxury glamping holiday destination in Indonesia designed especially for young couples who have an adventurous spirit and want to experience living close to nature.
The project was commissioned by the studio's client IGA Angga who wanted a design that was different from other accommodations, but also a comfortable and impressive honeymoon place. In addition, the building also had to be environmentally-friendly in terms of material, design, and blend in with nature. "The client envisioned for the guests to be inspired about living with nature and being an integral part of the environment of Bali.
The site is located atop rice terraces with a deep contour and it has many existing buildings around, especially at the back. The wind from the valley blows quite hard from the bottom towards the top. The design features a strong bamboo structure and hides the existing buildings at the back with a long roof towards the bottom that ensures more privacy for this building. The curved shape of the building provides an excellent view orientation towards the garden and Mount Agung.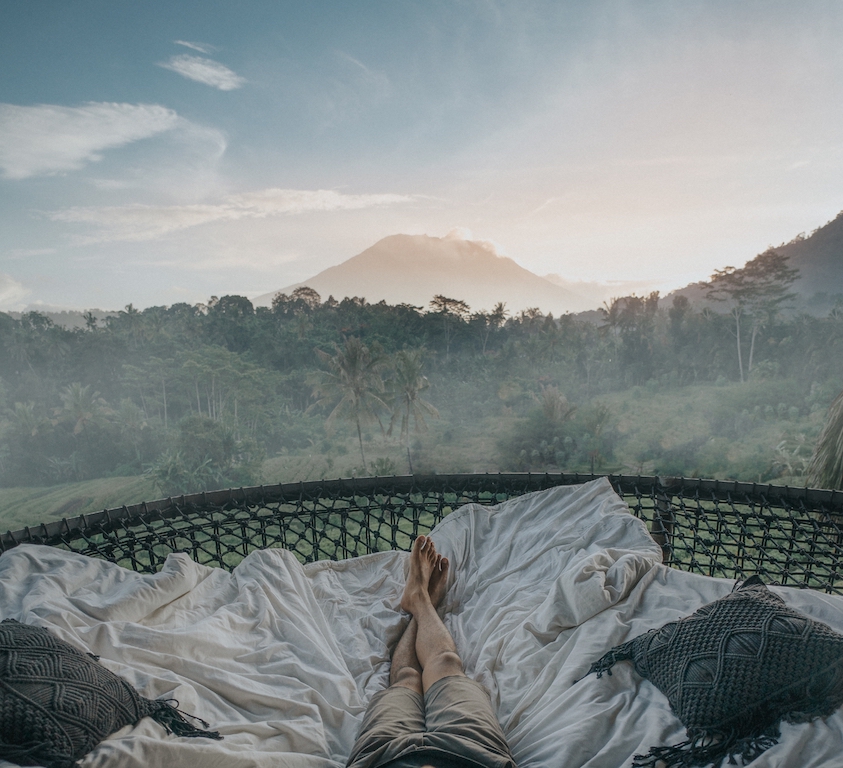 "I was inspired by traditional Indonesian architecture, especially Balinese architecture, most of which make use of local, renewable materials such as bamboo and thatched. The traditional architectural design is able to solve environmental problems very well that respond to the buildings' location and the surrounding environment," explains Widhi Nugroho, principal architect and founder of StudioWNA.
Mr Nugroho further explains that there are so many luxurious hotels, resorts, villas and accommodations in Bali, but almost all of them sell the same thing – just the room. "There is almost no difference between hotels in Bali, Singapore, Phuket, or Melbourne. Even though every guest wants to have an experience that is very different from the places they have visited and will never be found anywhere else," says Mr Nugroho, who has made extensive use of local bamboo materials and deployed the services of local bamboo craftsmen.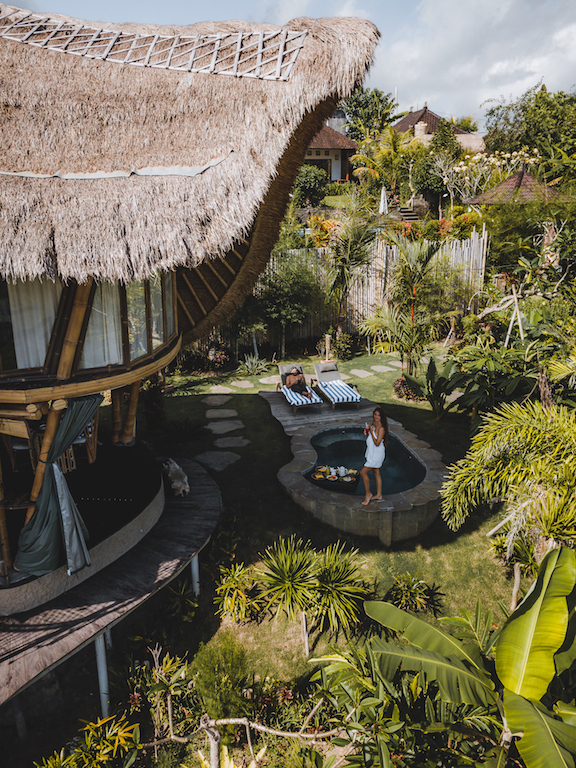 Mr Nugroho explains why bamboo is a natural choice for him when it comes to building sustainably. He says: "Bamboo is very easy to grow and obtain in Indonesia, and there are about 159 species of local bamboo, and 88 of them are endemic bamboo species native to Indonesia. Three-year-old bamboo can be used for building construction and certain types can be up to 12m long. This will be very beneficial in terms of having more flexibility in design because, with a long enough material, I can design a bamboo building with a wide roof span or a multi-storey building. Bamboo is also very strong but also flexible enough to be used in construction. In various studies, bamboo has also been likened to iron in its tensile strength because it has a very strong fibre.
At the same time, bamboo also has several disadvantages, such as not being sturdy enough when exposed to water, humidity, and direct sunlight. So the architect must address all these challenges through good design strategies."
To reduce humidity in the building, Mr Nugroho raised the floor from the ground level. So that this building does not get too humid and still receives good air circulation in the ground floor area. He also used glass walls to get maximum light in every room and maximise the scenic view in front of the building.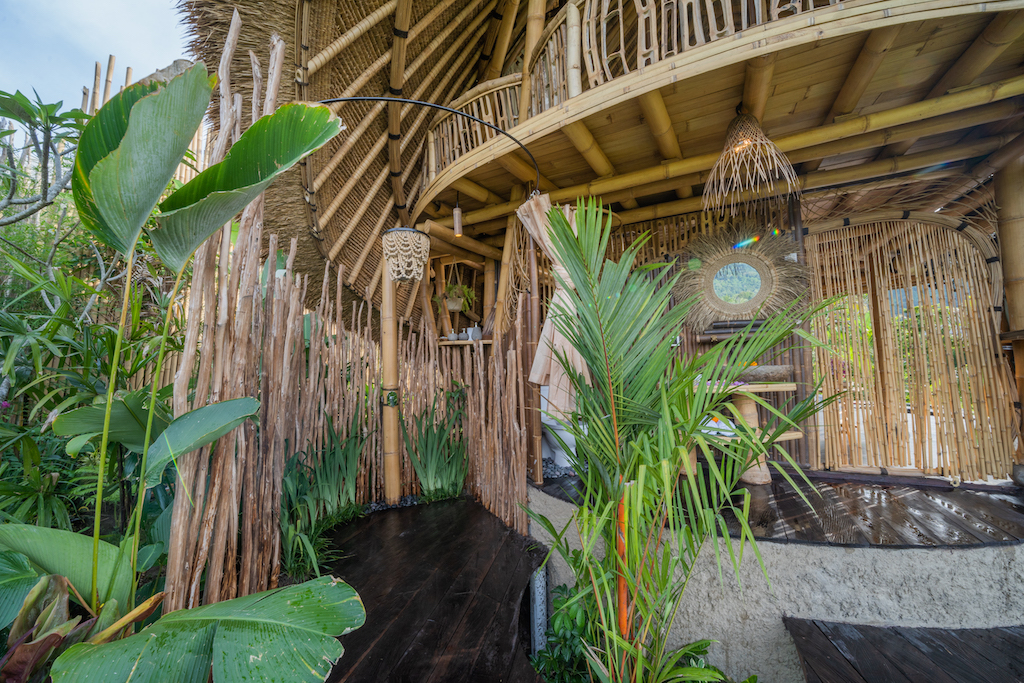 Since every bamboo has a different diameter, curved shape which leads to low levels of precision, yet at the same time, bamboo lends itself well to organic shapes. This property makes bamboo buildings stand out from conventional buildings. "Basically, it is the response of the design from the existing site and also my idea which came from the traditional Balinese kites in the shape of an owl bird," says Mr Nugroho. "These owl-shaped kites are widely flown near this site. Biomorphic-shaped architecture is very easy to realise using bamboo material, because bamboo is very flexible, easy to bend, has a length of up to 12m, and is also very light compared to other materials, making it easy to form an arch with a wide span."
In this project, the firm has used five types of bamboo – Bamboo Petung (Dendrocalamus asper) for the main structure; Bamboo Tali (Gigantochloa apus) for the rafters as well as some furniture; Bamboo Duri (Bambusa blumeana) for the railing; and Bamboo Wulung (Gigantochloa atroviolacea) for the floor and for the wood joinery work.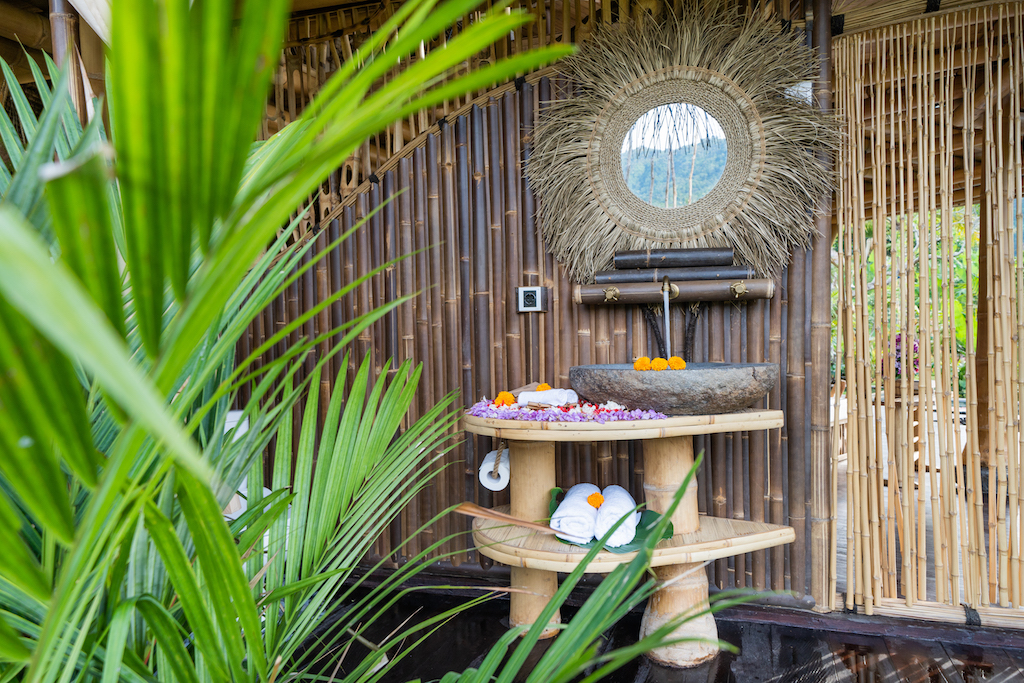 "We used a borac boric acid solution system which is more environmentally friendly for the preservation of bamboo. If preserved properly, bamboo construction can last for up to 20 years," shares Mr Nugroho.
He further explains that bamboo has been an intrinsic part of Indonesian culture for a long time. "Our traditional architecture uses bamboo as its main material, as well as furniture and household tools. I actually learnt from our traditional practices and developed it into a more modern form and design. The application of technology and a better understanding of bamboo construction give rise to new design expressions," shares Mr Nugroho.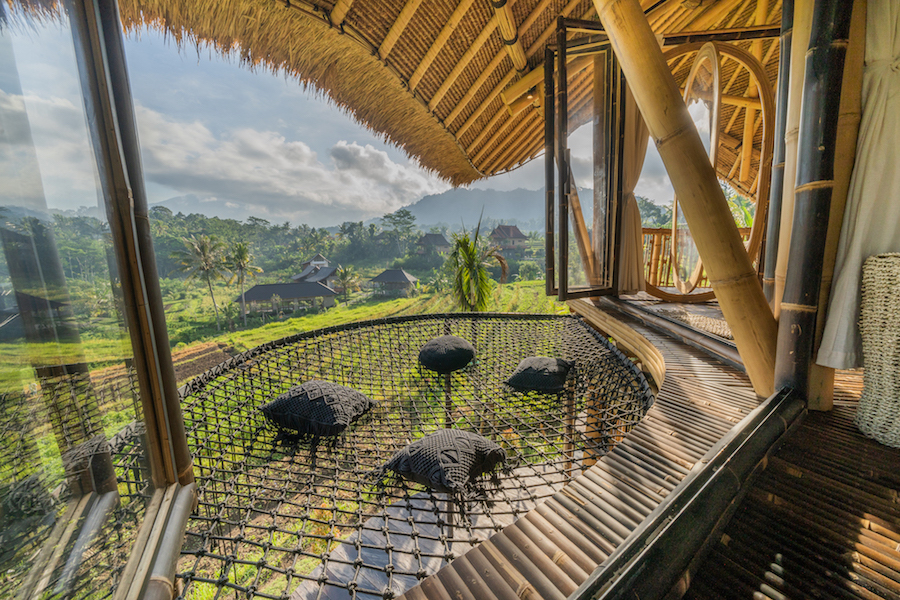 In his work, Mr Nugroho mostly employs local bamboo craftsmen who have received their knowledge from their ancestors and that has been passed down through several generations. Projects such as the Veluvana Bali that make extensive use of bamboo helps these craftsmen to continue to develop and preserve their bamboo skills and also be able to adapt to modern technology and designs.
"I wanted to show the bamboo construction skills that local Indonesians still continue to practise, and try to explore some design details that have been adjusted in a modern context. This process begins with designing a simple construction system but with an unusual organic shape. For that, we need several construction methods or ways of building that are different from conventional bamboo buildings," says Mr Nugroho.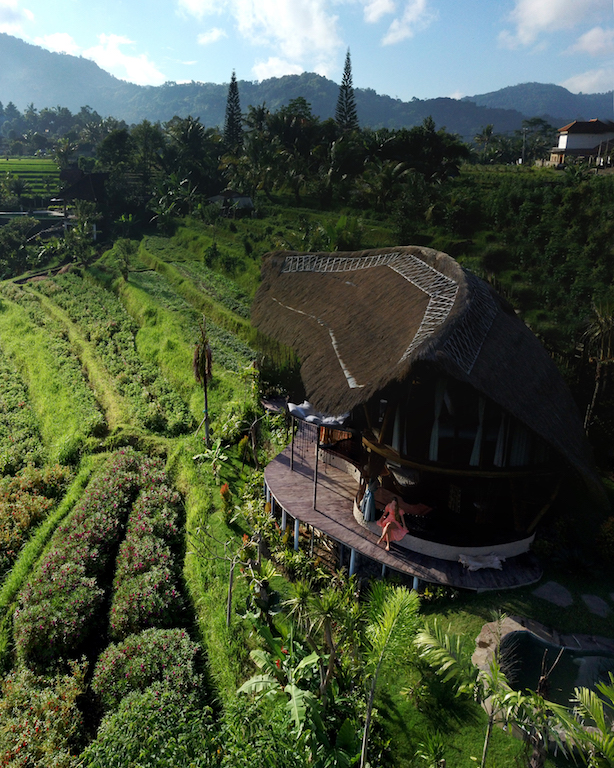 The architect feels that architects and designers have a responsibility towards the preservation of such indigenous crafts and should provide good knowledge and transfer of knowledge to bamboo builders so that they can continue to learn something new and gain knowledge from professionals (architects and designers) about the techniques and quality of good bamboo buildings. "My hope is that bamboo craftsmen can continue to inherit their skills and improve their economy as well," says Mr Nugroho.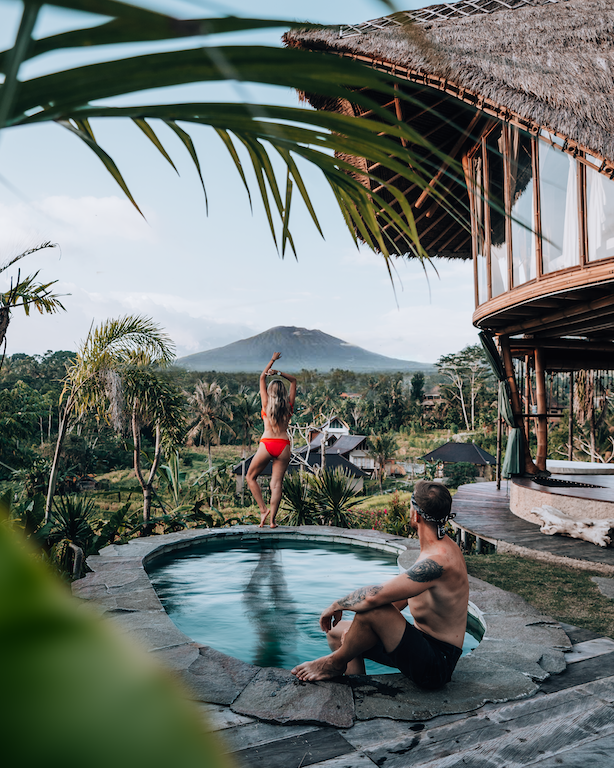 The property also offers a generous private garden and swimming pool that have been designed to be a part of the surrounding landscape.
See the full image gallery here:
Photos courtesy: Veluvana Bali
You might also like:
Designer Cheng-Tsung Feng discusses why bamboo is being embraced by young Taiwanese designers as material of choice
Alexis Dornier designs tree-top boutique hotel in Bali, invites other studios to pitch in more ideas
OMA-designed Desa Potato Head in Bali shuns exclusivity to engage local community