Hotel group Aman has opened its third resort in Japan that has been designed by the late Singapore-based architect Kerry Hill and his team – the studio behind both Aman Tokyo and Amanemu, as well as Amanyangyun in China.
The property capitalises on its lush forest surroundings. The 26-room Aman Kyoto, is situated in a hidden garden close to Kinkaky-ji Temple, a UNESCO World Heritage Site, near the centre of the prefecture.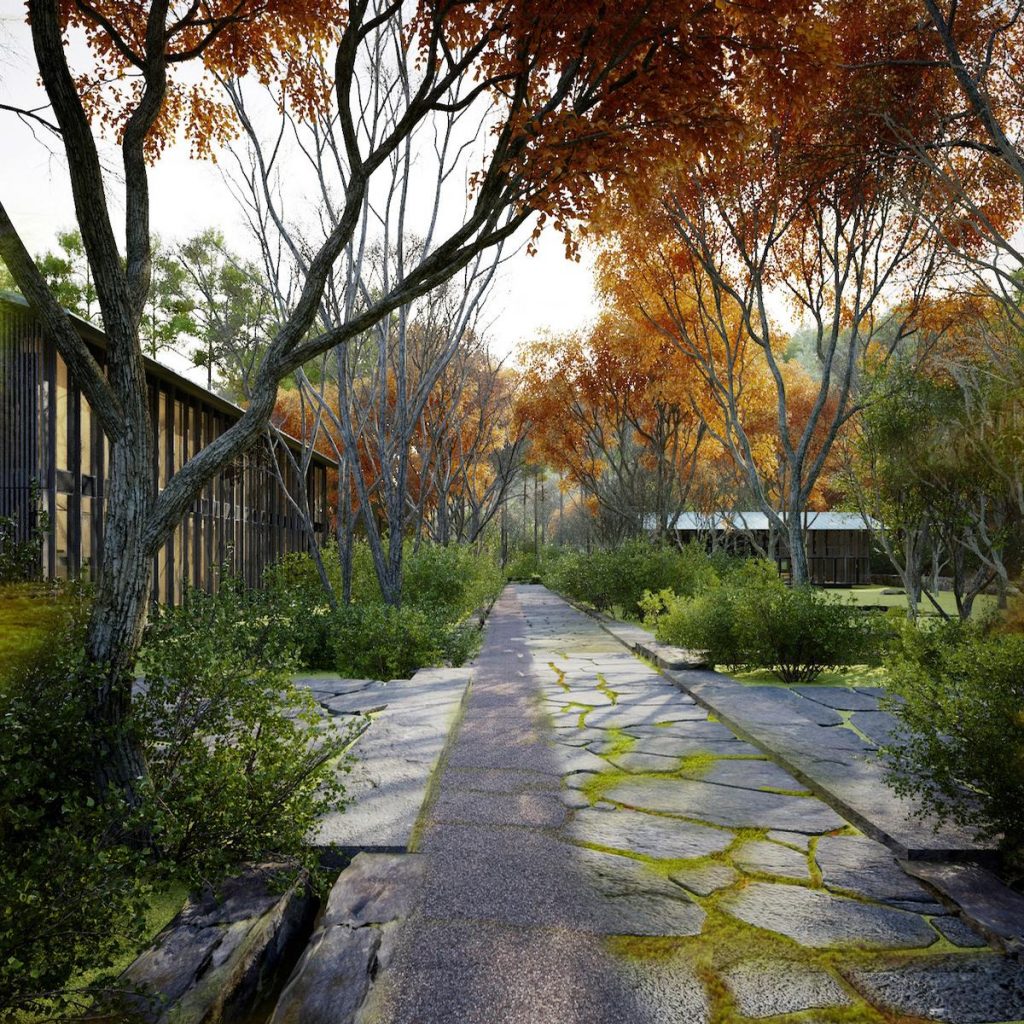 The 80-acre Aman Kyoto site comprises 72-acres of permanent forest and 8-acres of landscaped gardens that are used as a setting for yoga, meditation and forest bathing. Traditional onsen bathing facilities use water from a spring and there are facilities for treatments including shiatsu, acupuncture and moxa.
Set in a hidden garden in close proximity to Kinkaku-Ji Temple, the 24-key property – with two additional two-bedroom villas – draws on the country's traditional ryokan and onsen concepts, seeking to create an authentic, contemporary luxury hospitality experience.
Set at the foot of the Hidari Daimonji mountain to Kyoto's north, the resort is located within the forested grounds of the Takahamine district.
The garden unfolds as a series of platforms within a valley enclosed by a small stream and wooded hill. Originally intended as platforms for the former owner's planned museum of textiles, they now provide the foundations of the resort. Moss-covered stone pathways, some edged with cut-stone borders, are paved along the site, while garden stairways and paths lead guests to the upper levels bordered with colourful yama momiji maples and Japanese cedar planted. The garden has also been designed to self-irrigate.
Chairman and CEO of Aman group, Vladislav Doronin, said: "Aman Kyoto embodies the true spirit of Aman, blending our profound respect for nature with adherence to simple, yet striking, principles of aesthetics and structure."Kerry Hill Architects have previously worked on Aman's two other resorts in the country – Aman Tokyo and Amanemu in Ise-Shima National Park."
The design draws on Japan's ryokan (traditional inn) and onsen (hot spring) concepts to provide an authentic yet minimalist and contemporary sanctuary.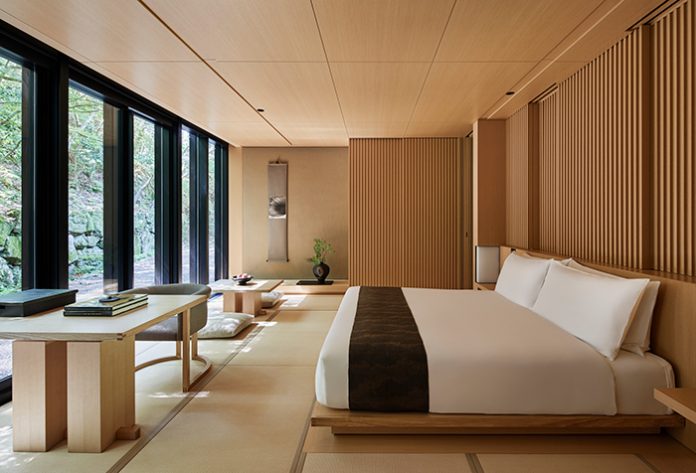 Each of the 24 guestrooms feature a contemporary reimagining of the traditional ryokan featuring minimalist aesthetics, floor-to-ceiling windows, tatami mats and tokonoma – alcoves for art d' objet.  Neutral palettes complement the work of local artisans with the spaces incorporating handmade raku tile panels and custom-made ceramics. The ofuro bathtubs in each bathroom are constructed from hinoki Cyprus wood native to central Japan, while all furniture has been designed bespoke and sit alongside artefacts selected individually for each space.